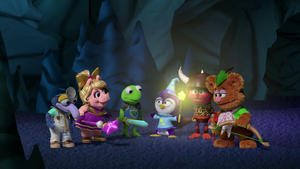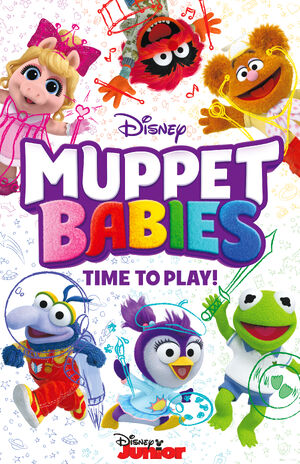 Muppet Babies is an updated version of the CBS animated series that ran from 1984 to 1991. The new series debuted on Disney Channel and the DisneyNOW app on March 23, 2018.[1]
The show retains several of the younger incarnations of the classic Muppet characters seen in the previous series, including Baby Kermit, Baby Piggy, Baby Fozzie, Baby Gonzo, and Baby Animal. Joining the main cast is a new penguin character, Summer. The series also sees the return of Nanny (now known as "Miss Nanny"), as well as guest appearances by Statler and Waldorf, Rizzo the Rat, Bunsen Honeydew, Beaker, Dr. Teeth, and Rowlf the Dog.
Unlike the previous series, the show is produced using computer-generated animation and features two, 11-minute stories per episode. The series is aimed at children between the ages of four and seven.[2]
The show is a co-production between Disney Junior, Disney Consumer Products and Interactive Media, and The Muppets Studio. Tom Warburton (The 7D) serves as executive producer of the series with Eric Shaw (SpongeBob SquarePants) serving as story editor.[3]
Prior to the show's debut, some of the characters from Muppet Babies also appeared in animated Music Nursery Rhymes shorts produced for Disney Junior in January 2018, and in a series of shorts entitled Muppet Babies: Show and Tell.
On September 7, 2018, it was renewed for a second season.[4] Between seasons, a series of shorts, Muppet Babies Play Date, featuring the characters as puppets premiered online in 2019.
Official description
"

Set in the vibrant playroom of an urban brownstone with an expansive backyard, the Muppet Babies have everything they need at their fingertips to lead them on their fantastical adventures. The backyard alone is home to Kermit's bouncy "pond," Piggy's dressing room, Summer's art table, Gonzo's chicken coop, Fozzie's stage and a communal treehouse. In every episode, through a rainbow transition, the Muppet Babies use their imaginations to transport them into a fantasy sequence, each with a distinct style ranging from collage, comic book and classic cartoons to live-action footage. While spotlighting the zany comedy that the Muppet Babies are known for, each story is also designed to introduce young viewers to the unique problem-solving power of imagination.[1]

"
Cast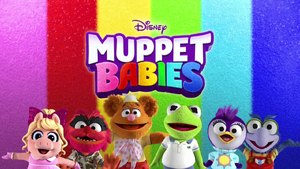 Credits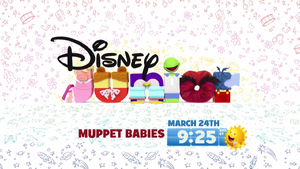 Gallery
Behind the scenes
Early production documents included a sheep character named Bobbi Baba as part of the central cast.[5]
Awards
In 2019, the series was nominated for three Daytime Emmy Awards for Outstanding Preschool Children's Animated Series, Outstanding Performer in a Preschool Animated Program (Eric Bauza and Ben Diskin), and Outstanding Casting for an Animated Series or Special.[6] Diskin ended up wining the award.
See also
Sources
↑ "A Brand New Muppet Babies is On the Way", OhMyDisney.com, October 26, 2016.
↑ 'Muppet Babies' Reboot Begins Production at Disney Junior, Variety, October 26, 2016.
↑ https://www.hollywoodreporter.com/live-feed/muppet-babies-vampirina-puppy-dog-pals-renewed-at-disney-junior-1140635
↑ Exclusive: Muppet Babies Set for Reboot?, ToughPigs.com, October 17, 2016.
↑ Animation Magazine. March 20, 2019.