DEBUT
1984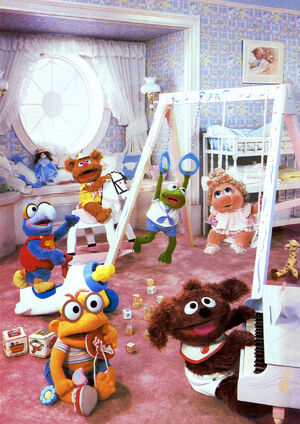 The Muppet Babies, infant versions of familiar Muppet characters, were introduced in the "I'm Gonna Always Love You" dream sequence from The Muppets Take Manhattan. The sequence imagined Kermit the Frog, Miss Piggy, Fozzie Bear, Gonzo, Scooter, and Rowlf the Dog as babies.
These puppets were also featured in a music video for "I'm Gonna Always Love You"; appearing both from movie footage and new content filmed exclusively for the video. They later appeared in Ma Bear's home video in A Muppet Family Christmas, this time with a baby version of Animal.
The characters inspired the Muppet Babies animated series, which ran on CBS for seven years.
Photo puppets of the Muppet Babies, with the addition of Skeeter introduced in the cartoon, were featured in several storybooks, including Muppet Babies' Classic Nursery Rhymes and Muppet Babies' Classic Children's Tales. They were also present in some issues of Muppet Magazine and featured on the cover of a Muppet Babies board game, a series of puzzles, and other merchandise.
The designs for the puppets were also used for the costumes for the characters in the Muppet Babies Live stage shows.
Many years later, Baby Animal was rebuilt and appeared in a 2014 commercial for Lipton, played by Eric Jacobson.

Characters
Gallery
See also