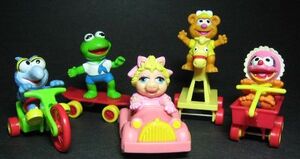 McDonald's released a set of four Muppet Babies Happy Meal toys (plus two "Under Three" toys) in 1987.
The main set had the Babies riding wheeled vehicles. The figures and vehicles were removable.
In Canada, Baby Animal in a red wagon was added to the set. Some of other figures were sculpted differently: for example, the American Baby Gonzo wore shoes whereas the Canadian Baby Gonzo was barefooted.
The "Under Three" toys were one-piece PVC toys. McDonald's often makes special toys for young children when the main toys include pieces that could be swallowed.
There were four Happy Meal Boxes released with this set. Each box corresponded to the toy for that week. i.e. there was a box for Kermit, Piggy, Fozzie, and Gonzo. Tray liners were printed with a "Grand Prix" game which could be played with the PVC figures and a dice.
Among the P.O.P items (Point of Purchase items, meant to draw attention to the promotion) there was an Employee Button featuring Kermit (was rectangular with a heart), a register topper, a display featuring the four premiums, translights (illuminated plastic sheets featured on the menu board), and a dangler that hung from the ceiling featuring the toys.
McDonald's made a second set of Muppet Babies toys in 1990.