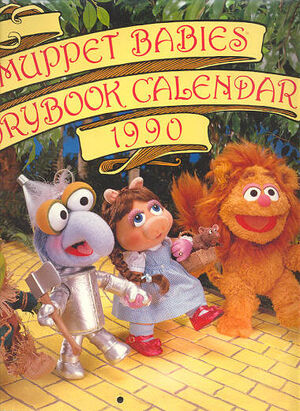 The Muppet Babies Storybook Calendar 1990 is a companion calendar to Muppet Babies' Classic Children's Tales released in the same year. The calendar was published in 1989 by Muppet Press and Longmeadow Press. The calendar features photographs by John E. Barrett of the Muppet Babies characters acting out parts in classic stories. Lauren Attinello was the Art Director for the project.
Each photo includes a rat hidden in the background, possibly meant to be a Baby Rizzo.
The calendar follows the previous year's Muppet Babies Nursery Rhyme Calendar 1989.
It's interesting to note that although the characters appear somewhat true to their origins in Miss Piggy's dream sequence from The Muppets Take Manhattan, the group includes Skeeter, a character introduced in the animated Muppet Babies series.
The quality taken in putting together each photo and its presentation, from lighting and color palettes, set construction to costumes, and right down to the tiny details, is reminiscent of what Mike Frith was doing in the 1980s on such projects as the Miss Piggy Calendars.
Contents
Community content is available under
CC-BY-SA
unless otherwise noted.