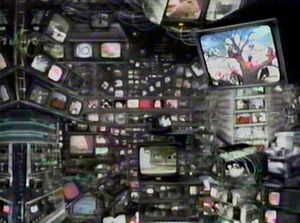 Muppet Central is the control room, and the hub of the action, in the MuppeTelevision segments of The Jim Henson Hour. From here, Kermit and the gang oversee the goings-on of MuppeTelevision with the help of a seemingly infinite amount of video feeds.
The all-digital set was first seen in Henson's Inner Tube pilot in 1987, and later appeared in every MuppeTelevision segment of The Jim Henson Hour.
The set was computer generated for the pilot by New York-based animation company Charlex.[1] Producers for Charlex were Charlie Levi and Alex Weil, and their primary compositing system at the time was the Abekas A-62.[2]
Images from previous Muppet productions, along with footage shot specifically for The Jim Henson Hour, appear on the monitors. Occasionally this is episode-specific - the monitors in Secrets of the Muppets show footage from the earlier making-of documentary, Of Muppets and Men. Footage from The Muppet Show, Sam & Friends, the Play-a-Long videos and Fraggle Rock also appears.
In the pilot episode, the show's characters like Digit, Vicki, Bean Bunny and Camilla can be seen in the set's background, giving it a sense of space. This was dropped after the shooting of this first episode.
Staff
See also
Sources
↑ Inner Tube credits
Community content is available under
CC-BY-SA
unless otherwise noted.