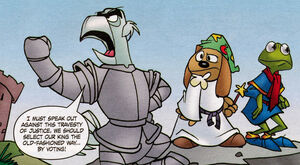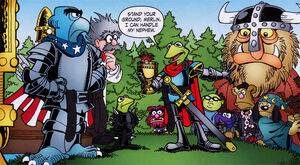 Muppet King Arthur is the third Muppet "fairy tale" comic book adaptation from BOOM! Studios, released in 2010. It was written by Paul Benjamin and Patrick Storck with art by Dave Álvarez for the first issue and James Silvani in issues 2 through 4. "A" cover art is provided by David Petersen with "B" cover art by Álvarez on issues 1 and 2, and Silvani on issue #3 and 4. All four issues have a limited edition "C" cover by Amy Mebberson, available through Jetpack Comics.
Cast
Issue 1
Release date: February 10, 2010
Issue 2
Release date: February 24, 2010
Issue 3
Release date: March 17, 2010
Issue 4
Release date: May 5, 2010
External Links
See also
The Muppet Show Comic Book:
Muppet Classics:

BOOM! Motion Comics:
Community content is available under
CC-BY-SA
unless otherwise noted.