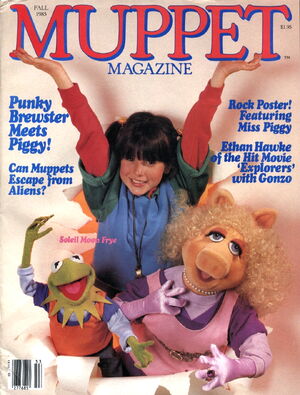 Muppet Magazine Volume 3, Number 4 (Fall 1985)
Muppet Round-Ups
Floyd's Record Rap as told to Marianne Meyer
Rick Springfield, Kenny Loggins, Stevie Wonder, George Winston and Meryl Streep (The Velveteen Rabbit story in song), Katrina and the Waves, George Strait, Terri Gibbs, Sesame Street Presents Follow That Bird, Maria McKee, John Schneider, British band King, Charlie Watts, Bill Wyman and Jimmy Page, Jane Siberry, R.E.M., Shannon, Nile Rodgers, Limahl, Nik Kershaw, The Drongos, John Cafferty and the Beaver Brown Band, Chaz Jankel.
Rowlf On Books as told to David Granger
The Story of Football, Make the Most of a Good Thing: You!, Secret Spells and Curious Charms, Tuck Everlasting, Only One Woof, The Black Stallion Legend, Tales for the Perfect Child, The Nova Space Explorer's Guide: Where to Go and What to See, The Everyone Can Build a Robot Book
Coming Attractions with Janice as told to Martha Benezet
Murphy's Romance, My Science Project, The Journey of Natty Gann, Steven Spielberg's Amazing Stories, The Twilight Zone, ABC Fun Fit, Punky Brewster, Family Playhouse, Danger Bay
Ask Dr. Honeydew as told to Frederick Newman
Bunsen fields questions about fish sticks, shuffling cards, and eating spaghetti.
Articles
Soleil Moon Frye and Miss Piggy celebrate Halloween in style
A Muppet comic spoofing Go-Bots and Transformers
Dr. Teeth writes about Miss Piggy's poster parodying Madonna's "Material Girl"
"You Can't Do That In This Magazine" by Kermit the Frog as told to Martha Benezet
Kermit chats with Nickelodeon cable show host Alasdair Gillis
Gonzo and Ethan Hawke talk about the new movie Explorers
Mondo Muppet
Volume 3, Number 4
Hair written by Letitia Hamilton
with jokes by Jeremiah Bosgang
Great Moments in Hair History written by Martha Benezet
Medusa, Lady Godiva, King Louis XIV, Rapunzel, The Bride of Frankenstein, The Beatles, Hair, Telly Savalas
Whose 'Do?
Tina Turner, Mr. T, Bozo the Clown, Elvis Presley, Cyndi Lauper, Beaker
Rarely Sighted Muppets
Harry, a caged lump of hair with a mouth
Gonzo's Weirder That Me: Volume 12 written by Mark Saltzman and Martha Benezet
Hair through history
You Need Hair to Be Great (excerpt from Miss Piggy's Guide to Life)
Mondo Incognito illsutrations by Rocco Alberico
Halloween masks
Beauregard's Brain Twisters (First published: The Muppet Show Annual 1979)
Miss Piggy's Advice as told to Louise Gikow
Community content is available under
CC-BY-SA
unless otherwise noted.