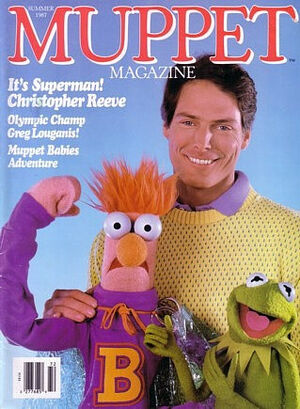 Muppet Magazine Volume 5, Number 3 (Summer 1987)
Muppet Round-Ups
Floyd's Record Rap as told to Marianne Meyer
Bryan Adams, U2, The Beatles, Paul Young, Phil Collins, Dire Straights, Max Headroom, Art of Noise, Simply Red, Pete Townshend, Fats Waller, Louis Armstrong, Duke Ellington, Count Basie, Michael J. Fox, Jeremy Irons, Mark Isham, The Parachute Club, Donna Summer, Jack Wagner, Martee Lebow
Zoot's Salute as told to Marianne Meyer
Whitney Houston
Coming Attractions with Janice as told to Pat Berry
Innerspace, The Princess Bride, Spaceballs, Superman IV, Masters of the Universe, The Living Daylights, Benji the Hunted, Snow White and the Seven Dwarfs, The Chipmunk Adventure, Harry and the Hendersons, Adventures in Babysitting, Garbage Pail Kids!, Beauty and the Beast, Ernest Goes to Camp, Max Headroom, Show Off!, The Cosby Show, Return to Treasure Island
Rowlf On Books as told to David Granger
The Goats, Exploring Summer, How I Came to Be a Writer, The Lightey Club, The Bug Book, The Bug Bottle, How to Think Like a Scientist, The Illustrated Casey at the Bat, Sports Illustrated's Great Moments in Baseball, Strange and Amazing Baseball Stories, Gumby, the Authorized Biography of the World's Favorite Clayboy, The Bears' House
Ask Dr. Honeydew as told to Fred Newman
Bunsen achieves flight by tying 632 helium balloons to his lawn chair.
Articles
Christopher Reeve visits Muppet Labs and helps to create Superbeaker.
The Muppet Babies feature in a Star Trek parody that also references the Egyptian pyramids, Benjamin Franklin and cave people.
"Olympic Diving Champ Greg Louganis at the Great Muppet Dive-In!" as told to Jim Lewis
Kermit and Louganis report for Muppet Sports and cover Gonzo's dive into whipped cream.
Mondo Muppet
Volume 5, Number 3
Garbage! written by Betsy Loredo
Features a trash trivia test about recycling.
Rarely Sighted Muppets
Susan Kaminski spots a lavender ballet monster.
Scientifically Speaking with Dr. Bunsen Honeydew as told to Marianne Meyer
Muppet Labs Rips the Lid Off Garbology: Bunsen and Beaker examine garbage scientifically.
Gonzo's Weirder Than Me: Volume 19 as told to Betsy Loredo
Trash-O-Rama!: Gonzo showcases his collection of trash photos.
Miss Piggy's Advice as told to Louise Gikow
Community content is available under
CC-BY-SA
unless otherwise noted.