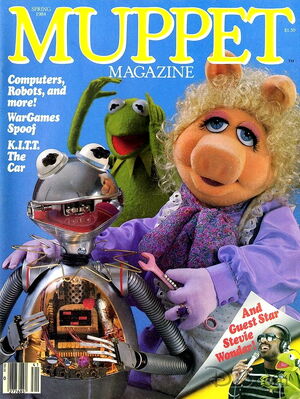 Muppet Magazine Issue #6: Spring 1984
Cover: "Computers, Robots and More!" (Miss Piggy and Kermit)... "And Guest Star Stevie Wonder!" (Stevie Wonder and Kermit); cover photograph by Donal Holway
Scooter shares his school report on computers
Dr. Strangepork interviews Atari founder Nolan Bushnell
Dr. Teeth takes note of electronic music, discussing Robert Moog, synthesizers, and the new technique used by Thomas Dolby and others called "sampling" to process the voice..
Dr. Honeydew examines the equipment at the Olympic Training Center. Special thanks to Michael O'Shea and the Sports Training Institute of New York.
Miss Piggy interviews computer artist Bill Kough. Includes a Kermit graphic by Dick Codor.
Four-page parody of WarGames
One-page Fraggle Rock feature in which Boober Fraggle explains some of his superstitions and mottos: "Knot your tail for luck (The more knots, the more luck.)"
Mondo Muppet
Edited by Mark Saltzman
"Knight Rider" by Gonzo as told to Cathi Rosenberg
Gonzo interviews K.I.T.T. from TV's Knight Rider.
"Dr. Bunsen Honeydew's Perception Tests" illustrated by Frederick Newman
Gonzo's Weirder Than Me: Volume 6
Auto Oddities
"Der Pita Brød Pizza" illustrated by Robert Dale
Recipe by the Swedish Chef
Hey Fans - Fan and hobby club addresses
Pizza jokes by Noelle Sterne, illustrated by Robert Dale
A worm coming out of a tube of Tuptum toothpaste.
Community content is available under
CC-BY-SA
unless otherwise noted.