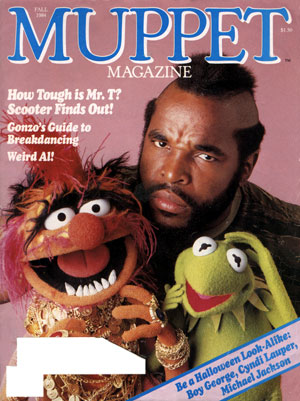 Muppet Magazine Volume 2, Number 4 (Fall 1984)
Muppet Round-Ups
Floyd's Record Rap as told to Marianne Meyer
Bruce Springsteen, The Talking Heads, Smokey Robinson, Juice Newton, Hank Williams, Jr., Elvis Presley, Indiana Jones and the Temple of Doom soundtrack, Gremlins soundtrack, The Muppets Take Manhattan soundtrack, Human League, Greg Kihn, Peter Wolf, Judy Collins, U2, Whitney Houston
Coming Attractions with Statler and Waldorf as told to David S. Cohen
The Aviator with Christopher Reeve, Country with Jessica Lange, That's Dancing with Liza Minnelli and Gene Kelly, Charles in Charge with Scott Baio, Who's the Boss? with Tony Danza, The Bill Cosby Show, Punky Brewster, Dreams with John Stamos, WonderWorks on PBS, The Muppet Babies, Out of Control with Dave Coulier, Mary Poppins with Julie Andrews
Rowlf on Books as told to David Granger
Paddington's Storybook, Ramona Forever, The Animal, More Scary Stories to Tell in the Dark, Alfred Hitchcock's Ghostly Gallery, The Ghost Squad Breaks Through, The Ghost Squad and Halloween, How to Prevent Monster Attacks, The Ordinary Princess, Stories For Children, Garfield: Jokes, Riddles and Other Silly Stuff
Ask Dr. Honeydew as told to Frederick Newman
Bunsen answers questions about being afraid of the dark, homework, and naming a new dog.
From the Files of Fozzie as told to Paul McMahon, illustrated by Richard Brown
Articles
Mr. T talks to Scooter about The A-Team and answers questions from Muppet Magazine readers.
"Gonzo's Guide to Breakdancing"
Gonzo dances with The Dynamic Breakers and The Dynamic Dolls
Kermit the Frog and Miss Piggy star in a comic spoof of Splash
Janice dresses kids up as Michael Jackson and Boy George, including Heather Henson as Cyndi Lauper
"We Interrupt This Magazine"
the Muppet Newsman reports on people turning into chickens and becomes one himself.
Alfonso Ribeiro gets a Boogie Badge from the Frog Scouts
"Weird Al" Yankovic clowns around with Fozzie
Mondo Muppet
Hounds! (edited by Mark Saltzman; research by Martha Benezet, hound jokes by Noelle Sterne)
Great Moments in Hound History
Gonzo's Weirder Than Me: Peculiar Pooches
Miss Piggy's Advice as told to Louise Gikow