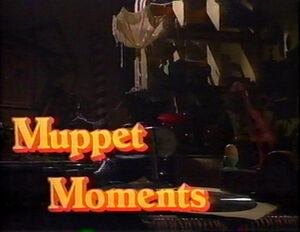 Muppet Moments was released by Playhouse Video in 1985, as part of a series of compilations featuring songs and sketches from The Muppet Show.
Kermit the Frog and Fozzie Bear go to the attic to clean out old stuff, but everything up there reminds them of special moments from The Muppet Show.
Muppet Show guest stars include Bernadette Peters, Pearl Bailey, Andy Williams, Zero Mostel, Lena Horne, and Liza Minnelli.

Picture
Segment
Description

FRAME
Kermit and Fozzie, armed with cleaning tools, plan to dust off the attic and toss away anything they don't need. Fozzie discovers an egg, which Kermit tells him to throw out. Fozzie has Kermit think of it as a rising star of the chicken world, aka a "baby face..."

Song
"Baby Face" with the Chickens
(Episode 207: Edgar Bergen)

FRAME
They decide not to throw the egg away and Fozzie considers taking it on vacation with him one day. Kermit tells him to rule out going to Rio, as they've already done that...

Song
"I Go to Rio"
(Episode 424: Diana Ross)

Sketch
Muppet News Flash: Results of National Sheepdog Trials
(Episode 417: Star Wars)

Sketch
The Swedish Chef: Spicy Sauce
(Episode 115: Candice Bergen)

FRAME
While dusting, Kermit comes across some sheet music. It turns out to be for "In the Good Old Summertime" and Fozzie begins to sing some of it. Kermit thinks Pearl Bailey did it much better.

Song
"In the Good Old Summertime" with Pearl Bailey and Floyd Pepper
(Episode 305: Pearl Bailey)

Song
"Pathétique"
(Episode 313: Helen Reddy)

FRAME
Fozzie discovers a worm under a helmet. Kermit alerts him of the danger that worm has caused in the past.

Sketch
The Glow-Worm
(Episode 204: Rich Little)

FRAME
Fozzie swats the segment as it transitions onto the scale. Even though Fozzie found it weird, Kermit replies they did plenty of nice numbers too, like one with Bernadette Peters.

Song
"Just One Person" with Bernadette Peters, Robin the Frog and cast
(Episode 212: Bernadette Peters)

Sketch
The Swedish Chef: Chicken Egg
(Episode 212: Bernadette Peters)

Song
"The Devil Went Down to Georgia"
(Episode 420: Alan Arkin)

Sketch
Pigs in Space: The Captain's Controls
(Episode 209: Madeline Kahn)

FRAME
Fozzie prevents Kermit from throwing away a horn, claiming it's his friend, Lena (Horn).

Song
"Sing" with Lena Horne and Cast
(Episode 111: Lena Horne)

Sketch
The Swedish Chef: Japanese cake
(Episode 120: Valerie Harper)

Song
"Take a Chance on Me"
(Episode 403: Shields & Yarnell)

FRAME
Fozzie now comes across a saxophone and a bomb - sax and violence!

Song
"Sax and Violence" with Zoot, Mahna Mahna, and Nigel
(Episode 102: Connie Stevens)

FRAME
Kermit is relieved Sam the Eagle is present, otherwise they'd be lectured on violence. Fozzie recalls the fables Sam would tell them to teach them morals and reiterates one lesson he learned - never listen to Sam's fables.

Sketch
"The Ant and The Grasshopper" with Sam the Eagle
(Episode 212: Bernadette Peters)
The opening music used for Sam's editorial sketches is added to the beginning.

Song
"Night and Day"
(Episode 516: Gladys Knight)

FRAME
Fozzie carries one of the sarcophagi from the previous number, while Kermit carries a tiny dresser. They convince the other to not throw their respective items away.

Sketch
Veterinarian's Hospital: Shoe
(Episode 212: Bernadette Peters)

FRAME
Fozzie uncovers a small powderpuff from inside a trunk, intending to throw it out. Kermit points out that it's a valuable showbiz memento - it was nearly eaten by Zero Mostel.

Backstage
Dressing Room: Sam the Eagle talks to Zero Mostel
(Episode 202: Zero Mostel)

FRAME
Kermit and Fozzie both find matching maracas - they're two of a kind!




Song
"Two of a Kind"/"Jubilee Time" with Andy Williams (both numbers edited together)
(Episode 422: Andy Williams)

Sketch
Muppet News Flash: Remodeling of Muppet News Studio
(Episode 309: Liberace)

Song
"Feelings" with Beaker
(Episode 424: Diana Ross)

FRAME
Kermit and Fozzie react to the previous song and move onto the next piece.

Sketch
Muppet Sports: Wig Racing
(Episode 310: Marisa Berenson)

FRAME
Fozzie finds a bunch of birthday items. Kermit believes they were from the last time a birthday was celebrated in the theater.

Song
"It Was a Very Good Year" with Statler and Waldorf
(Episode 406: Linda Lavin)

FRAME
Fozzie and Kermit enjoyed the sweet song, but Fozzie wants to take a quick rest and watch Liza Minnelli.

Song
"A Quiet Thing" with Kermit the Frog and Liza Minnelli
(Episode 414: Liza Minnelli)

Sketch
Muppet Labs: Bunsonium
(Episode 212: Bernadette Peters)

FRAME
Fozzie wants to throw out a piece of what appears to be a vacuum hose, but, as Kermit points out, it's actually a living creature. Fozzie attempts to soothe it, claiming it should have its own series.

Song
"Java"
(Episode 122: Ethel Merman)

FRAME
Fozzie is satisfied with the work they've done, until Kermit points out, they've done no cleaning whatsoever...save for a broken, glass bottle he intends to trash. Fozzie won't have it, citing it as a piece of Muppet history (from the "cowboy sketch"). As the credits role, they fight over keeping it. Kermit relents and lets Fozzie keep it. As he shuts the door, it falls over and breaks.
Community content is available under
CC-BY-SA
unless otherwise noted.