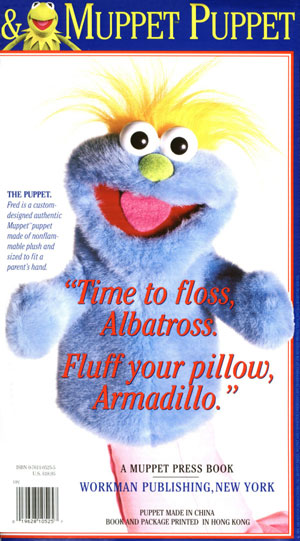 Muppet Puppet Books are a book series published from 1996 to 1998, featuring two new Muppet monsters, Fred and Lizzy Lou. The characters were designed by longtime Muppet designer Rollie Krewson.
The first book, Go to Bed, Fred, was published by Workman Publishing in 1996. The book was packaged with a Fred puppet. This was followed in 1997 by Peek-a-boo, Lizzy Lou!, which came with a Lizzy Lou puppet.
Six more books were published by Random House in 1998, with three for each character -- a Jellybean Books storybook, a Chunky Flap Book, and a Color & Activity Fun book. The series didn't take off as a spin-off, and ended quietly.
All eight books were illustrated by Lauren Attinello, who also wrote the Lizzy Lou books. Alison Inches wrote the first Fred book, Go to Bed, Fred, and Janelle Cherrington wrote It's Your Bed, Fred and Where's Your Bear, Fred?
The Jim Henson Company tried to launch another book series with new Muppet characters, Jim Henson's Scary Scary Monsters, in 1998 and 1999. This series also fizzled out after six books.
Fred
Lizzy Lou
Community content is available under
CC-BY-SA
unless otherwise noted.