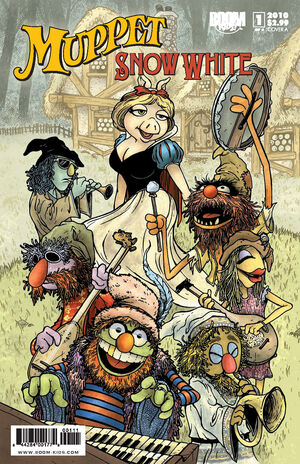 Muppet Snow White is a four-part mini-series released as part of the Muppet Classics line of comics from BOOM! Studios. The comic is a retelling of the tale of Snow White and the Seven Dwarfs with the Muppets and borrows heavily from both the Brothers Grimm and Disney versions of the story. The comic is written by Jesse Blaze Snider with Patrick Storck, with artwork by Shelli Paroline and featuring covers by David Petersen and James Silvani.
The first issue of Muppet Snow White was initially scheduled for an April, 2010 release, but didn't turn up until about a month later.[1]
Cast
And as themselves: Foo-Foo, Beauregard, Sam the Eagle, Uncle Deadly, Crazy Harry, Dead Tom, Headless Bill, Marvin Suggs, Angus McGonagle, Bobby Benson, Johnny Fiama, Wayne and Wanda, Mahna Mahna, The Snowths, Sal Minella, Bad Polly, Clueless Morgan, Mad Monty, Annie Sue, Dr. Bunsen Honeydew, Beaker, and the Dragon from Sleeping Beauty
Also glimpsed: Ace Yu, Bugsy Them, Lew Zealand, Clifford, Mean Mama, Beard, Slim Wilson, Yoda Muppet, Ernst Stavros Grouper (mention only), Thog, Doglion, Timmy Monster, The Mutations, Behemoth, Beautiful Day Monster, Blue Frackle, Green Frackle, Big V, Gorgon Heap, Luncheon Counter Monster, Howard Tubman, Carter, Baskerville, Angel Marie, and Banananose Moldenado
Issue #1
Release date: May 19, 2010
Issue #2
Release date: June 16, 2010
Issue #3
Release date: July 21, 2010
Issue #4
Release date: August 25, 2010
Sources
See also
The Muppet Show Comic Book:
Muppet Classics:

BOOM! Motion Comics:
External Links
Community content is available under
CC-BY-SA
unless otherwise noted.