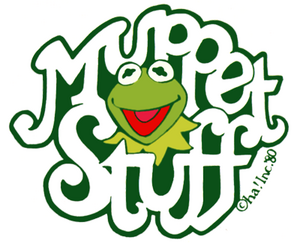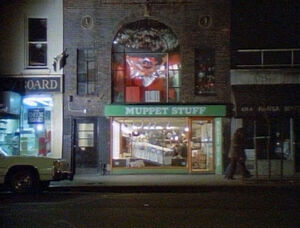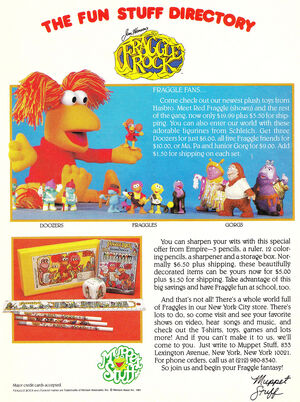 Muppet Stuff was a New York City boutique located at 833 Lexington Avenue from 1980 to 1993. This was the only store in the world to exclusively feature Muppet, Sesame and Fraggle products.
When the store opened in 1980, it was promoted in the Muppet Show Fan Club newsletter: "There is a charming little building in New York City on Lexington Avenue. The facade is brick with carved cherubs and arched window. It is wall-to-wall, floor-to-ceiling Muppet Stuff! At MUPPET STUFF everything that has a Muppet on it is available -- books, clothes, records, jewelry, toys, games and much more. New products are introduced regularly. MUPPET STUFF is located at 833 Lexington Avenue, New York City, NY 10021."[1]
The additional information in a curated entry on the Jim Henson's Red Book website explained:
"

Decorated to be fun and welcoming with a giant character-laden clock, Muppet Stuff featured all types of Muppet toys, dolls, apparel, books, videos, and memorabilia. For the opening, set for late October 1980, the boutique was heralded as "Muppet Stuff – A shop with nothing but!" Visitors to the store were plunged into a world that included Muppets and Muppet Babies, Sesame Street, and Fraggle Rock. The design was meant to evoke a visit to the workshop in the midst of a project, but the intentional "…delightful clutter" requested by Jim ended up being a liability, making it difficult for customers to find what they wanted. In an attempt to balance whimsy with profit, the store went through some design streamlining over the years. Events at the store, including walk-around characters and holiday children's activities, proved to be a big draw and kept buyers coming back. The style, contents, staff and promotion were managed in-house at Henson Associates nearby in a very hands-on manner. Michael Frith created the logo and all departments made suggestions about publicity, events, design and merchandise. Eventually, working with a partner in Canada, nine stores opened there. Retail is fickle, however, and as the company moved into the early 1990s, Muppet Stuff closed its doors.[2]

"
Items from the store could also be ordered by mail through Muppet Magazine. In the back of several issues, one page was dedicated to products such as a Muppet Magazine t-shirt, plush dolls, music albums, toys and books. Special catalogues were also made available through the mail.
The 1984 documentary Henson's Place features a sequence filmed inside the Muppet Stuff store.
Later in the 80s, other outlets opened up in the US and Canada. By 1988, Toronto had a Muppet Stuff store located at 2588 Yonge Street on the corner of Albertus Ave. Another store later opened at Bayshore Shopping Centre in Ottawa.[3]
Sources
↑

Muppet Show Fan Club newsletter, vol. 3, no. 1, 1980.
Notes
↑

"Happy Easter, Muppet Stuff: A tisket a tasket just add an egg and the first Miss Piggy Doll to your Easter basket. Miss Piggy who is a soft 14 inches tall, can dress-up Easter in this stunning gown or in her sailor outfit, garden party ensemble and space costume that you can purchase separately. Miss Piggy and Kermit Dress-up Dolls by Fisher Price Toys."
Community content is available under
CC-BY-SA
unless otherwise noted.