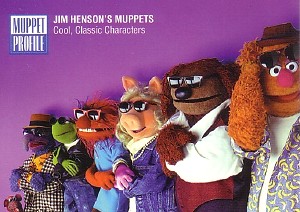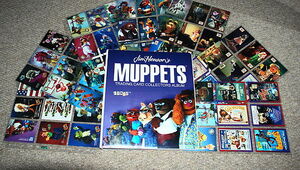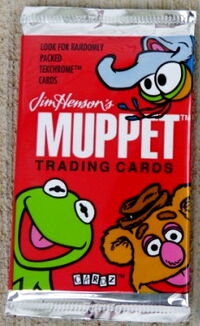 The Jim Henson's Muppet Trading Cards were released by Cardz Distribution in 1993. The set of 60 cards was divided into a number of categories.
List of cards
1. "Jim Henson's Muppet Trading Cards" (Kermit's introduction)
Muppet Rock
2. "What's Hair Got to Do with It" by Janice Turner - Janice as Tina Turner
3. "Spawned in the U.S.A." by Kermit Greenstein - Kermit as Bruce Springsteen
4. "Meep" by Krissed Krossed - Beaker as Kris Kross
5. "Friend of the Toad" by Tadz II Toads - Kermit as Boyz II Men
6. "You're Never Gonna Get Moi!" by En Volved - Miss Piggy as En Vogue
7. "Piggy Reigns" by (Frog) Prince - Kermit as Prince
8. "Friends with No Faces" by Dr. Bunsen "Garth Honeydew" - Bunsen Honeydew as Garth Brooks
9. "Sweet Nose O' Mine" by Gonz N' Noses - Gonzo as Guns N' Roses
10. "Waggie May" by Rowlf Stewart - Rowlf as Rod Stewart
11. "My Hair's All Over and Over" by Clifford Cravitz - Clifford as Lenny Kravitz

Muppet Sports Extra
12. Rah! Rah! Moi! Moi! - Miss Piggy cheerleading
13. Muppet Team Hopeless! - Animal in the basketball net
14. Frog on the Rocks! - Kermit hiking
15. Animal Strikes Out! - Animal and Fozzie playing baseball
16. Lucky Muppets! - Kermit, Fozzie and Gonzo skateboarding
17. Frog Leaps - Pig Keeps! - Kermit and Miss Piggy long jumping
18. Air Beaker! - Beaker playing basketball
19. Pig Digs Skate Gig! - Miss Piggy and Foo-Foo rollerskating
20. Surfin' Like an Animal! - Animal surfing
21. Face Plant! - Clifford dirt biking
22. Diamonds Are a Pig's Best Friend - Miss Piggy playing baseball
23. Gonzo Takes a Dive! - Gonzo scuba diving
24. Star Hopper! - Kermit hurdling
25. Hooray for Harley-Wood - Miss Piggy motorcycle riding

Muppet Profiles
26. Miss Piggy
27. Kermit the Frog
28. Gonzo
29. Animal
30. Fozzie Bear
31. Rowlf the Dog
32. Janice
33. Rizzo the Rat
34. Statler and Waldorf
35. Bunsen Honeydew and Beaker

Muppet Art
36. Welcome to the Muppet Museum
37. The Smooch
38. Green Boy
39. Pig Before a Mirror
40. Mona Moi
41. Young Lady Adorning Herself with Pearls (and Why Not?)
42. Arisfroggle Contemplating the Bust of a Twerp
43. The Sleeping Zootsy
44. The Birth of You-Know-Who
45. La Belle Epigue
46. The La Danseur
47. The Marriage of Froggo Amphibini and Giopiggi Porculini
48. The Jester at the Court of Henry VII
49. American Gothique
50. Arrangement in Gray and Black with Creep (Whistler's Weirdo)

Muppet Cinema
51. The Muppet Movie
52. The Great Muppet Caper
53. The Muppets Take Manhattan
54. The Muppet Christmas Carol
55. Moi, Jane
56. Star Chores
57. Superbeaker II
58. The Bride of Froggen-Schwein
59. Cleopigtra / Checklist 1 of 2
60. The Pigseidon Adventure / Checklist 2 of 2
Community content is available under
CC-BY-SA
unless otherwise noted.