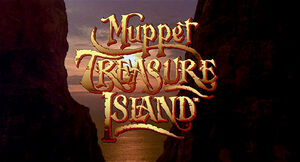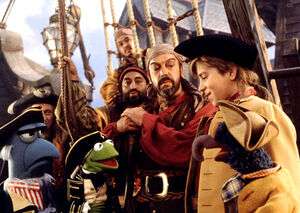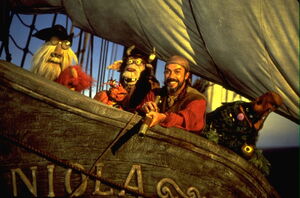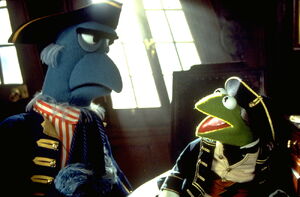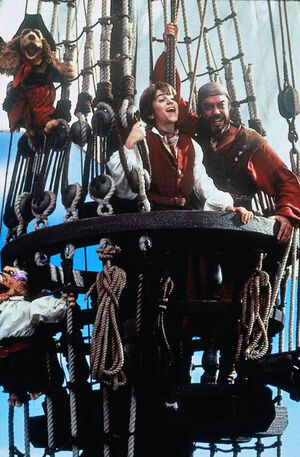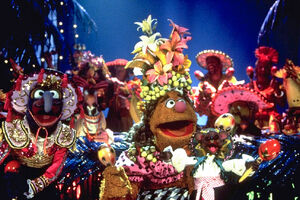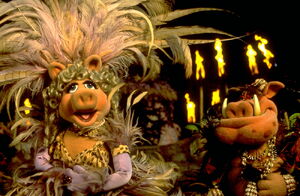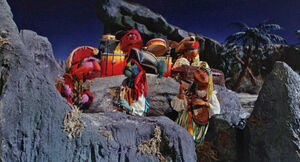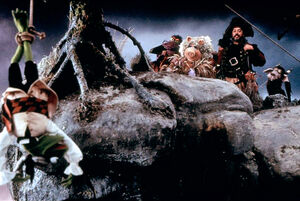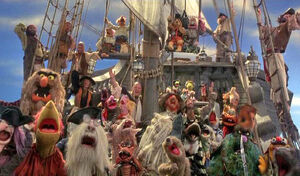 Muppet Treasure Island is the fifth feature film to star the Muppets, and the second produced after the death of Muppets creator Jim Henson. Released in 1996 and directed by Jim Henson's son Brian Henson, it was one of many film adaptations of Robert Louis Stevenson's Treasure Island.
As in the earlier Muppet Christmas Carol, the key roles are played by human guest stars -- in this case, Tim Curry as Long John Silver and Kevin Bishop as the protagonist Jim Hawkins -- while the Muppets filled in supporting roles, including Kermit the Frog as Captain Smollett, Fozzie Bear as young Squire Trelawney, and Miss Piggy as Benjamina Gunn. Following their success as the narrators of The Muppet Christmas Carol, Gonzo and Rizzo appear in specially-created roles as Jim Hawkins' best friends.
The film follows the book's events, but altered by the Muppets.
Synopsis
Jim Hawkins and his close friends Gonzo and Rizzo are orphans and work at the Admiral Benbow Inn under the ownership of bossy landlady Mrs. Bluveridge, who seems to be able to hear things a mile away. Also living in the inn is Billy Bones, who claims to be a former pirate and was the mate of legendary pirate Captain Flint. After Jim, Gonzo and Rizzo sing about how "There's Got To Be Something Better", a mysterious blind pirate, Blind Pew, appears and gives Billy Bones a black spot. Billy explains all his stories were true and he must flee before his fellow crew members come to kill him. However, he instructs Jim to take his treasure map and warns him of the "One-Legged Man", before suddenly dying of a heart attack. Pirates soon attack the inn and an explosion in the storeroom sets the inn on flames, but all the occupants escape.
Jim, Gonzo and Rizzo arrive in Portsmouth where they seek out Squire Trelawney who examines the treasure map, and he agrees to fund a voyage to locate the treasure. The group, accompanied by Dr. Livesey, his assistant Beaker and Mr. Bimble, the man who lives in the squire's finger, go to the dock and board the galleon, The Hispanola. Jim and his friends meet the cook, Long John Silver, the first mate Mr. Arrow, and finally Captain Abraham Smollett. The ship sets out, with a host of bizarre crew-members and several songs to go with them. Three pirates attempt to convince Rizzo and Gonzo to tell them where the map is by torturing them, but they are locked in the brig. This event prompts Smollett to lock the map in his safe. Silver tricks Mr. Arrow into leaving the ship in a lifeboat, and gains his keys, allowing his friends to steal the map.
Jim and the others learn of his mutiny plan, but Jim is captured and taken with the pirates to Treasure Island. Smollett, Gonzo and Rizzo follow but are soon captured by tribal wild boars, who present them to their queen, Benjamina Gunn. Benjamina previously had a relationship with Smollett but he left her at the alter. Silver finds the former burial spot for the treasure but when the other pirates attempt to kill him, he allows Jim to escape. Jim rescues Gonzo and Rizzo, while Silver and his pirates surprise Smollett and Benjamina. Benjamina reveals the treasure is in her chamber, but she and Smollett are tied upside down on a clifface, to fall to their demises when ropes are snapped by a pair of flamepits. The two reform their love for each other through song ("Love Led Us Here") and are saved from death by the other heroic crew members, including the alive Mr. Arrow. A duel breaks out between the heroes and pirates on the shores of the island, pirate Sweetums joining the heroes. Smollett takes on Silver, but loses his sword. Jim and the others gang up on Silver, and he surrenders.
That night, Silver locates Mr. Arrow's keys in his pocket and manages to escape the ship with some treasure. Jim allows him to leave, with Smollett congratulating him for his bravery, saying "your father would be proud". Mr. Arrow then spills the beans that the boat Silver took was unstable - leaving poor Silver swimming to shore. The remaining crew head back to the mainland, celebrating their victory.
Music
The movie's songs were written by pop songwriters Barry Mann and Cynthia Weil, whose hits include "On Broadway", "Blame it on the Bossa Nova", "Who Put the Bomp in the Bomp Bomp Bomp", "Just Once" and "We Gotta Get Out of This Place".
The movie offered Mann and Weil the opportunity to write theatrical music. Weil said, "We went for a Broadway thing here. When we began working with Brian Henson, we wrote the first song like a kid's song." That song was dropped: "We looked at the rest of the Muppet movies and saw how hip the music was. It was a challenge to write the songs from a theatrical standpoint instead." [1]
The film ends with a reggae number performed by Ziggy Marley, "Love Power". The song was released as a single, and promoted with a music video featuring Marley and some dreadlocked Muppets. [1]
The soundtrack album was released on CD in 1996.
Cast
Dave Goelz, Steve Whitmire, Jerry Nelson, Kevin Clash, Bill Barretta, John Henson, Frank Oz, Louise Gold, Nigel Plaskitt, John Eccleston, Simon Buckley, Katherine Smee, Andrew Spooner, Robbie Barnett, James Barton, Michael Bayliss, Charles Broughton, David Bulbeck, Dave Chapman, Marcus Clarke, Sue Dacre, Taylor David, Geoff Felix, Mike Gallant, Pat Garrett, Barnaby Harrison, Mark Jefferis, William Todd Jones, Robin Kingsland, Steve Kynman, Christopher Leith, Anthony Lymboura, Mark Mansfield, Joan Morris, Rebecca Nagan, Margaret O'Flaherty, Angie Passmore, Peter Passmore, Marie Phillips, Colin Purves, Mike Quinn, Peter Robbins, Gillie Robic, Helena Smee, John Thirtle, Ian Thom, Heather Tobias, Jurgen Tombers, Ian Tregonning, Rob Tygner, James Vaughan, John Wheatley, Victoria Willing, Phil Woodfine, Sarah Wright, Paul Zerdin (Uncredited: Patrick Comerford[2], Brian Herring[3], Ronnie Le Drew[4], Steve Nallon[5], Karen Prell, Axel Rathgeber)
Muppet Cast
Polly Lobster, Clueless Morgan, Mad Monty, Blind Pew, Black Dog, Angel Marie, Old Tom, Real Old Tom, Dead Tom, Spotted Dick, One-Eyed Jack, Walleye Pike, Sweetums, Jacques Roach, Calico, Wander McMooch, Begoony, Mudwell the Mudbunny, Brool the Minstrel, Murray the Minstrel, Gray Frackle, Wolf, Dodo, Beggar, Headless Bill, Mr. Bitte, Old Joe, The Undertaker, Lyle the Dog, Lew Zealand,
Floyd Pepper, Zoot, Animal, Janice, Dr. Teeth, the Swedish Chef, George the Janitor, Rowlf, Robin the Frog, Bean Bunny, Inkspots, Link Hogthrob, Crocodile, Monkey, Snakes, Skulls, Sprocket, Flaubert, J.P. Grosse, Pops, Mr. Plagueman, Winny, Eugene, Droop, Koozebanian Phoob, Laundress, Whatnots, Rats, Island Heads, Geri and the Atrics, Raccoons, Aretha, Pigs, Chickens, Dogs, Wolfhound, Cow, Goat, Moose Head, Bananas, Cactus, Green Frackle
Additional Credits
Puppet builders etc: Astrig Akseralian, Christine Andrew-Moyes, Heather Asch, Chris Barton, Denise Baseley, Abigail Belknap, Maria Boggi, Lisa Boquist, Mary Brehmer, Matt Brooks, Fred Buchholz, J Leonard Carroll, James Chai, Ed Christie, Ron Cole, Barbara Davis, Susan Doyle, Carmel Dundon, Victoria Ellis, Eric Engelhardt, Malcolm Evans, Henri Ewaskio, Cindy Fain, Patricia Farr, Michael K Frith, Jon Gellman, Jane Gootnick, D J Gramann, Peter Goebel, Paul Hartis, Tim Hawkins, Rich Hochheimer, Ann Marie Holdgruen, Jane Howell, Sara Iams, J Douglas James, Larry Jameson, Robert W Jones, Janet Knechtel, Rollin Krewson, Janet Kuhl, Laurent Linn, Peter MacKennan, Tim Miller, Tom Newby, Ellen Pellicciaro, Connie Peterson, Helen Pitcher, Thomas L Prager, Katherine Profeta, Philip Rathke, Mark Ross, Stephen Rotondaro, Mark Ruffin, Barret Schumacher, Gordon Sparrman, Carol Spier, Muriel Stockdale, Jason Weber, Jean-Guy White, Mark Zeszotek , Darryl Worbey
Notes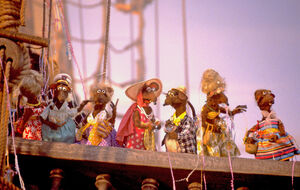 The fourth wall is broken several times over the course of the movie:

Rizzo the Rat comments when Billy Bones has his heart attack "He died? And this is supposed to be a kid's movie!"
Statler comments on being "stuck to the front of this stupid ship", and Waldorf replies "Well, it could been worse. We could be stuck in the audience!"
A line in "Cabin Fever" says "I'd like to get my hands on whoever wrote this script".
Clueless Morgan comments on the "Cabin Fever" musical number
Long John Silver gives his crewmates stage directions during the "Professional Pirate" number, saying "Upstage, lads, this is my only number" as they carry him across the camp.
A tomato on the Swedish Chef's ingredient tray says "How else did you think we were going to get him into this movie?" (after which the Chef whacks it with a large mallet).
A rat conducts a tour of the island referring to the place as the location for the movie Muppet Treasure Island.
Statler comments that saving Smollett and Benjamina made them heroes, and Waldorf replies "Well, it was too late to save the movie!"

Because Frank Oz was in the process of directing Bowfinger at the time, he was too busy to appear on set for some of the filming. Kevin Clash puppeteered his characters in Oz's absence, and Oz looped their voices in post-production.
This marks the first major role for Sam Eagle in a Muppet movie.
Long John Silver appears as having only one leg, propped up by a crutch. Tim Curry originally tried using a pegged leg as his character did in the book, but it proved too uncomfortable for him, so he had to switch to simply using a crutch.[cite]
See also
Sources
↑ 1.0 1.1 McCormick, Moira. "Angel Sets Sail with Muppet Treasure Island: Soundtrack First Family Title for Classical Label", Billboard. February 24, 1996.
External links