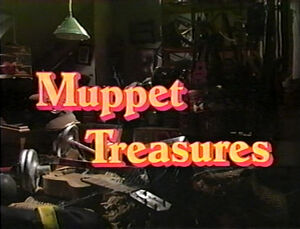 Muppet Treasures was released on VHS in 1985 by Playhouse Video, as part of a series of compilations featuring songs and sketches from The Muppet Show. In the new framing material, Fozzie and Kermit find some interesting props from The Muppet Show in the attic of The Muppet Theatre. The props provide segues to various clips from the series.
This video features guest appearances by Paul Simon, Buddy Rich, Loretta Lynn, Peter Sellers, Zero Mostel, and Ethel Merman.

Picture
Segment
Description

FRAME
Kermit the Frog inadvertently frightens Fozzie Bear in the attic. Fozzie claims to be looking for the fish from the "Lullaby of Broadway" production number so he can ask what they sang. Kermit points him toward the birdcage (as the fish is a "perch") and fish replies, "A ding-a-ling!"

Song
"Lullaby of Broadway" with Eskimo Pigs
(Episode 304: Gilda Radner)

FRAME
Kermit has one of Gonzo's many, old guitars. Fozzie wasn't aware Gonzo even knew how to play guitar, cueing...

Song
"Act Naturally" with Gonzo
(Episode 405: Victor Borge)

Sketch
Veterinarian's Hospital: Same jokes
(Episode 215: Lou Rawls)

FRAME
Fozzie plays around with the Punch and Judy puppets and claims he's a master of voices. Fozzie then loses control of the Punch puppet, who starts hitting the two with a feather duster.

Song
"Scarborough Fair" with Paul Simon
(Episode 511: Paul Simon)

Sketch
The Swedish Chef: Doughnuts
(Episode 114: Sandy Duncan)

FRAME
Kermit comments on the previous piece as he sets down a miniature suit of armor, which then follows him across the room.

Song
"Tumbling Tumbleweeds" with skiers
(Episode 512: Melissa Manchester)

Sketch
Muppet News Flash: Sports Equipment
(Episode 217: Julie Andrews)

FRAME
Kermit comes across a cymbal from Animal's drum solo with Buddy Rich. Ping pong balls fall from above and the two flee before the bowling ball follows.

Sketch
Drum Battle with Animal & Buddy Rich
(Episode 522: Buddy Rich)

Sketch
Bear on Patrol: Capturing an octopus (ending cut)
(Episode 416: Jonathan Winters)

Song
"Time in a Bottle" with a scientist
(Episode 207: Edgar Bergen)

FRAME
Kermit reads from an old paper and asks Fozzie if he recalls Zelda Rose and her Singing Owl. "Who?" Fozzie asks. "Exactly," replies Kermit.

Song
"Who?" with Zelda Rose & her Singing Owl
(Episode 203: Milton Berle)

FRAME
Fozzie asks Kermit about the bunch of cows they once featured, setting up the old "herd of cows" exchange.

Song
"Elegance" with cows
(Episode 408: Arlo Guthrie)

Sketch
Pigs in Space: Need to jettison one pig
(Episode 218: Jaye P. Morgan)

FRAME
Kermit finds a battle rattle, a prop he recalls from a Loretta Lynn performance...

Song
"One's on the Way" with Loretta Lynn
(Episode 308: Loretta Lynn)

Sketch
The Swedish Chef: Spaghetti
(Episode 111: Lena Horne)

FRAME
Fozzie wonders what happened to that spaghetti. Kermit informs him it's kept in a box which should stay closed. Fozzie ignores his warning and opens it anyway, as the spaghetti attacks him.

Song
"In the Navy" with Viking Pigs
(Episode 524: Roger Moore)

Sketch
Muppet News Flash: Cheeses
(Episode 422: Andy Williams)

Sketch
Veterinarian's Hospital: Rabbit
(Episode 422: Andy Williams)

FRAME
Fozzie recalls the one number Statler and Waldorf performed on the show, which allowed him to turn the heckling tables. He grabs hold of a bunny hopping around and turns its attention to the following...

Song
"Take Ten Terrific Girls" with Statler & Waldorf
(Episode 409: Beverly Sills)

FRAME
Fozzie eagerly shows Kermit the chorus girl headdress he's found, but Kermit has the same one on too. They decide to watch Peter Sellers...

Sketch
Masseur Sketch with Peter Sellers & Link
(Episode 219: Peter Sellers)

FRAME
Kermit gets a top hat stuck on his head. Fozzie tries to help, but finds it too funny to remove.

Song
"A Little Help from My Friends" with Janice
(Episode 419: Lynda Carter)

FRAME
Fozzie now wants to see a routine by Zero Mostel. Kermit, still stuck under the head, quips, "I'd like to see anything."

Sketch
Fears of Zero with Zero Mostel
(Episode 202: Zero Mostel)

Sketch
Muppet News Flash: Over-hand Refrigerator Throwing
(Episode 313: Helen Reddy)

Sketch
"Night Train"
(Episode 206: Nancy Walker)

FRAME
Fozzie tells Kermit how much he loves looking at their old props, which reminds him how much he loves show business. Kermit recalls the wise words of Ethel Merman...

Song
"There's No Business Like Show Business" with Ethel Merman
(Episode 122: Ethel Merman)

FRAME
Kermit turns out the lights, but Fozzie stays behind to tidy up a little more as the credits roll (even tidying up the camera) while an instrumental of There's No Business Like Show Business plays.