Muppet Valentines by Paper Magic Group.
1997
There are two diffrent boxes of Valentines Day cards, with a different number of identical Valentines - A red box of 34 cards, and a blue box of 42 cards.
There were 10 different valentines featuring the Muppets Tonight cast, including:
Clifford & Kermit
Gonzo
The Muppets Tonight cast.
2012
Includes 32 cards (8 different designs) featuring various Muppet characters, including:
Kermit the Frog
Miss Piggy
Animal
Fozzie Bear
Gonzo
Pepe the King Prawn
Dr. Bunsen Honeydew and Beaker
The Muppets cast (Kermit, Fozzie, Miss Piggy, Gonzo, Animal)
2013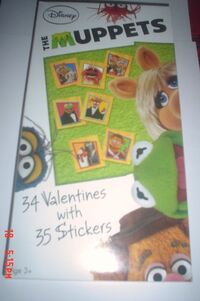 Another set released by the Paper Magic Group, featuring 34 cards. The set includes 35 Muppet stickers (7 different designs) featuring various Muppet characters, including:
Kermit the Frog
Miss Piggy and Foo-foo
Fozzie Bear
Gonzo and Camilla
Pepe the King Prawn
Animal
The Muppet Cast (Fozzie, Miss Piggy, Kermit, Gonzo, Camilla)