Appearances by the Muppets, where show titles and dates are unknown. When information surfaces, these items will be moved to their own pages.
General unknown
The Today Show
Date unknown, discussed here.

Ernie and Bert with glasses of milk
A clip of Ernie and Bert with a glass of milk is seen in the first episode of CNN's 2015 documentary series The Seventies (on Netflix as of April 2016, July 2017).
Scott uploaded the clip as a gif to illustrate the type of camera shot used, which doesn't appear to be in the style of a typical Sesame Street episode; the lighting also kind of gives that away. Speculated that it may be something for The Ad Council or a similar government-funded PSA; or perhaps a PBS interstitial or promo.

Bert saying "Ernie"
A couple seconds appears in the A&E Biography when Frank Oz is talking about his characters.

1976 Goro Noguchi Special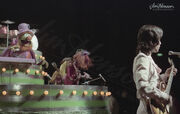 Jim Henson's Red Book has information on a guest appearance in a 1976 Japanese special starring the Tokyo-based pop star Goro Noguchi, but it doesn't reveal the title (Henson noted it in his journal simply as "Goro Special". The Muppets were invited by Nippon Television to appear on the program and the characters performed for about twenty minutes in sketches and songs throughout the ninety-minute special. Performers included Jim Henson, Frank Oz, Jerry Nelson, and Dave Goelz (along with assistance from Jane, Cheryl and Lisa Henson).

"Pau Hana Years" (1977)
In 1977, Big Bird and Oscar the Grouch appeared in the 1,000th episode of the show "Pau Hana Years," a series produced by Hawaii Public Television. This was probably filmed during the Sesame Street cast's visit to Hawaii.
A video filmed by one of the show's producers documenting the production of the episode can be found on Vimeo.

Kermit in a special with Phylicia Rashad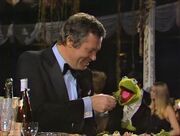 A YouTube video post circa April 2010 (now dead, but Scott may have this archived) featured Phylicia Rashad singing in French and dancing to disco. The first few frames of the video showed Kermit wearing a tux, sitting at a table with food in front of him before it cut to Rashad's sequence.
This may be Jetzt geht die Party richtig los. —Scott (message me) 01:00, April 13, 2018 (UTC)
Jim and Kermit on NBC news show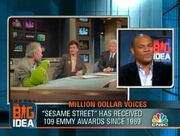 Some footage of an appearance by Jim Henson and Kermit on an NBC show was included in the Kevin Clash appearance on The Big Idea.

1991 Walt Disney World appearance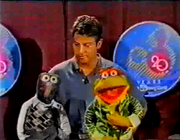 Gonzo and Scooter made an appearance on a UK morning show in 1991 promoting Walt Disney World and its Disney-MGM Studios park attractions. They told fat jokes about Miss Piggy. (YouTube)

See also