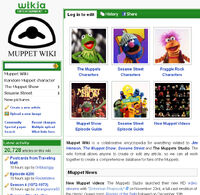 Muppet Wiki is a wiki "for everything related to Jim Henson, Sesame Street, and the Muppets." It is hosted by Fandom (formerly WikiCities/Wikia), which runs on (modified) MediaWiki software. This format allows visitors to add, remove, or otherwise edit and change content that has been curated through a system of checks and balances. Muppet Wiki works as a collaborative effort overseen by a team of dedicated administrators and editors working together as a community toward the creation of in-depth encyclopedic articles.
Founded on December 5, 2005 (under WikiCities), Muppet Wiki's database contains 39,715 encyclopedic articles (which does not include wiki discussions, project pages, or redirects). The logo was designed by Scott Hanson and based on a theme from the March photo in The Miss Piggy Calendar 1980. This was incorporated into a new design based on The Muppet Show logo by Julian Kleibeler in October 2010 (including seasonal flair).
Although the wiki is run in an unofficial capacity, several industry insiders have made substantial contributions, adding to the wiki's credibility (see "Mission" statement below). Their presence has been welcome in a capacity of their choosing: while some individuals have gone on record as identified experts, the anonymity of others is respected and acknowledged by the wiki hosts.
Mission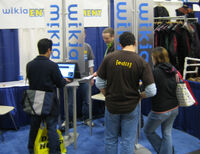 The goal of Muppet Wiki and its contributors is to build a database of articles related to Jim Henson's career and various character universes. Through the research of published works and various media content, the database is meant to serve as a comprehensive source of reference. An accurate account of works cited is provided when possible (by way of footnotes and adherence to other policies), and particular attention is given to verifiable information. Special care is taken with disputed or erroneous information, and in some cases may result in a settlement in the form of a rumor disclaimer.
Although the name of the site is Muppet Wiki, the encyclopedia extends to areas outside of what may be publicly perceived as "Muppet" content in some cases. For example, Sesame Street, while well known for its inclusion of Jim Henson's Muppets, comprises a number of different contributions such as animation and live-action film unrelated to the Muppets. Because Sesame Street and the Sesame Street Muppets are so closely associated, these areas often blend into one another, and thus, have been included in some cases. (see Muppet Wiki:Coverage)
Similarly, Jim Henson's work outside of the Muppets is also stressed, one example being technology and characters furnished by Jim Henson's Creature Shop. Of the works created by companies using material furnished by the Creature Shop, only those works produced by The Jim Henson Company are covered extensively. Other examples of non-Muppet Jim Henson content include The Cube and "Tick-Tock Sick."
Milestones and Acknowledgements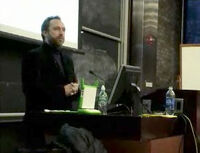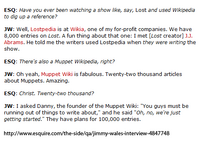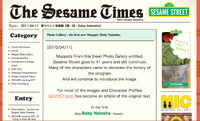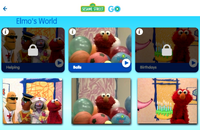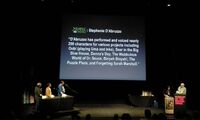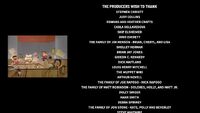 Muppet Wiki was featured in segment #4 of the August 3, 2006 broadcast of The 9 on Yahoo TV!
In the July 2007 print edition of reason magazine, coverage of Muppet Wiki is used as an example of Wikia's growth:
Kermit Culture, a collection of academic essays about the Muppets in popular culture, offers Muppet Wiki as an additional resource "for fans and scholars" of The Muppet Show cast. Two essays source articles on Muppet Wiki in their works cited: "The Muppets and Shakespeare" by Hugh H. Davis (Kermit, Prince of Denmark); "The Uniquely Strong but Feminine Miss Piggy" by Maryanne Fisher and Anthony Cox (Bonnie Erickson, Miss Piggy). Additionally, Muppet Wiki administrator and regular editor since January 6, 2006, Andrew Leal, contributed "Muppets and Money."
The National Post cited Muppet Wiki as the sole source for their 2009 interactive article "101 Muppets of Sesame Street," indicating that some journalist are using Muppet Wiki as a primary source of information.[17]
Muppet Wiki reached 20,000 articles on November 16, 2009.
The official Sesame Street 40th anniversary book, Sesame Street: A Celebration - 40 Years of Life on the Street, published in 2009, cites Muppet Wiki several times as "an invaluable resource" for readers who would like to learn more about the series. Tough Pigs founder and Muppet Wiki co-founder Danny Horn is interviewed for the merchandise section, where he talks about his earliest memory of Sesame Street Merchandise.
Production designers on The Muppets used Muppet Wiki "thoroughly for research."[19]
Character images for

Harvey Kneeslapper

and

Pedro

were used in the background of the Downton Abbey parody on Sesame Street (

see image

). An earlier version featured the same Harvey image, as well as one of

Queen Olivia

, but with digital alterations. (

See image here

).
Sesame Street director Nadine Zylstra mentioned the website when talking about Sesame Workshop's large audience at a Google Tech Talk in March 2013. (YouTube)
Craig Shemin used Muppet Wiki's article of Gilbert Gottfried to list off his Muppet appearances in an appearance on a 2017 episode of Gilbert Gottfried's Amazing Colossal Podcast!
During the Museum of the Moving Image's "Preserving Jim Henson's Legacy" webinar on April 25, 2020 (YouTube), Karen Falk gives thanks to the various companies involved in various Henson-related exhibits, as well as the Muppet fan community and "that Muppet Wiki that we all use every day."
On November 8, 2021, the official Sesame Street Facebook and Twitter accounts posted a clip from Episode 0343. Both accounts give acknowledgement to Muppet Wiki for bringing public attention to the episode earlier in the weekend.[20][21]
Matt Vogel acknowledges the Muppet Wiki as a useful tool in researching a character's history in Episode #31 of Below the Frame (mentioned at 00:44:01).
On April 12, 2022, the University of Maryland hosted an online event "Archiving a Legacy: A Conversation with Karen Falk of The Jim Henson Company." During a section on fan engagement, Falk mentioned the Wiki as a productive resource.
Seasonal logos
Beginning in October 2010, with a design overhaul of Wikia, Julian Kleibeler started designing various Muppet Wiki logos with seasonal flair. Based on the classic "MUPPET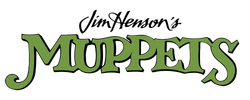 " font developed by Michael Frith, Kleibeler added imitating "WIKI" lettering; all the while incorporating the trademark Kermit eye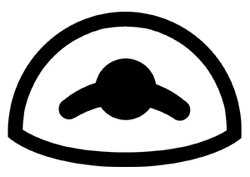 that Scott Hanson first prominently used on the Wiki's original design
, based on the first Miss Piggy Calendar's "private eye" icon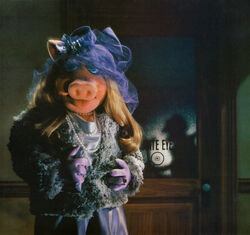 , again designed by Frith (and once again used here on Muppet Babies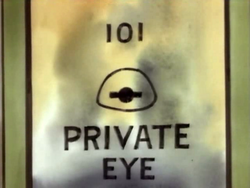 ). In the style of Google's commemorative Google Doodles used for special occasions, the blank space to the right of the logo has been used for special holiday images.

Basic Muppet Wiki logo
October 15, 2010

Thanksgiving logo
November 25, 2010





Christmas logo
December 24, 2010





Valentine's Day logo
February 14, 2011





Spring logo
March 21, 2011





Earth Day logo
April 22, 2011





Arbor Day logo
April 29, 2011





Memorial Day logo
May 30, 2011





Independence Day logo
July 4, 2011





Summer logo
June 26, 2013





Labor Day logo
September 5, 2011





Muppets Now takeover logo
July 31 to September 5, 2020

Halloween logo
October 31, 2010





Winter logo
December 4, 2010






Groundhog Day logo
February 2, 2011





St. Patrick's Day logo
March 17, 2011





April Fool's Day logo
April 1, 2011





Easter logo
April 24, 2011





Mother's Day logo
May 8, 2011





Father's Day logo
June 17, 2011





Juneteenth logo
June 19, 2021





Pride Month logo
June 20, 2022





New Year's logo
December 30, 2011
See also
Sources
External links