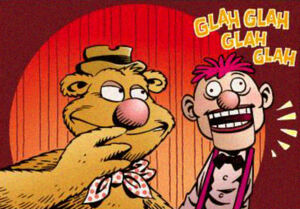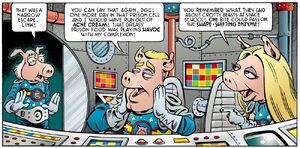 A new series of Muppet comics was scheduled to appear in the pages of Disney Adventures. Roger Langridge wrote and drew the comics which are intended as one or two-page stories to run in the regular edition of the magazine with larger stories (ten to twelve pages) in the Comic Zone specials.
On his blog, Langridge originally announced that the strips would begin running in the August 2007 issue.[1] In August, Langridge posted that there had been delays, and reported comics editor Steve Behling's projected estimate of a 2008, publication, either the December/January or February issues.
However, subsequently, on August 22, 2007, Disney Publishing Worldwide announced to the press that it would cease publication of the magazine with the November issue. Upon learning the news, Langridge responded: "I think they're going to try to publish the existing strips (or at least some of them) before they finish up. Otherwise... well, watch this space."[2]
Only a single strip, a one-page story focusing on Fozzie Bear, Smedley, Statler and Waldorf (with a cameo by Scooter), appeared in the final Disney Adventures issue, cover date November 2007. Some remaining material found its way to a preview issue of The Muppet Show Comic Book released in limited numbers at the San Diego Comic-Con 2008.
Other Strips
See also
Sources
Community content is available under
CC-BY-SA
unless otherwise noted.