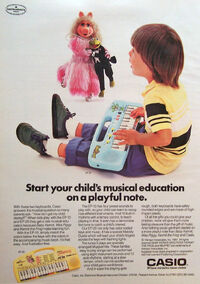 Electronics company Casio made three Muppet keyboards in 1987. The keyboards were designed to help young children learn to play the piano, guiding them through two stages and building their confidence.
EP-10
The EP-10 keyboard is decorated with the Muppet Babies logo and a picture of Baby Kermit. The keyboard has four preset sounds to play with, and ten built-in rhythms with a tempo control so that children can learn to play in time with a beat.
This model is based on the Casio VL-1, PT-1, and PT-10 hardware.
EP-20
The EP-20 keyboard has a "Jim Henson's Muppets" logo, and an illustration of Kermit the Frog and Miss Piggy dancing. This keyboard has color-coded keys and music, as well as a Melody Guide which flashes lights above the next key to play. The keyboard is programmed with Muppet songs.
This model is based on the Casio PT-82 and PT-87 hardware.
EP-30
The EP-30 keyboard has a picture of a dressed up Kermit. This keyboard has digital PCM samples. it can even record a 1 second sample from the internal microphone that can be played back. This keyboard is the rarest of the EP series.
This model EP-30 is based on the Casio SK-10 hardware.
External links
Community content is available under
CC-BY-SA
unless otherwise noted.