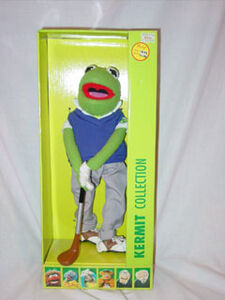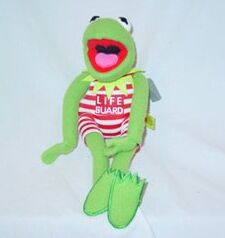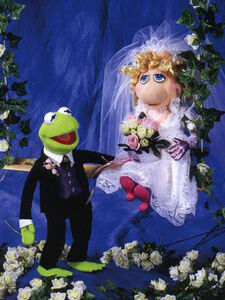 The German company Igel/JuniorToys produced various Muppet dolls for the Kermit Collection from 1999 to 2001. The dolls were sold in green Kermit Collection boxes. The Igel line marked the debut of some characters in the Kermit Collection.
Some of the dolls were later re-released by Sababa Toys.
The following characters were made:
Dolls:
Kermit, with bendable limbs (available in three sizes) (1999)
Lifeguard Kermit (1999)
Farmer Kermit (1999)
Winter Kermit in sweater and boots, holding snowball (1999)
Broker Kermit, holding velcro phone (2000)
Tennis Kermit, holding tennis racket (2001)
Soccer Kermit, with ball under arm (2001)
Golf Kermit, holding club (2001)
Miss Piggy, in blue dress (1999)
Fozzie Bear (1999)
Gonzo, in yellow jalapeño shirt (1999)
Muppets from Space Gonzo (1999)
Animal in white shirt and blue jeans (1999)
Statler and Waldorf, detailed dolls with hard heads (1999)
Rizzo the Rat (2000)
The Swedish Chef with hard head (2000)
Dr. Bunsen Honeydew (2001)
Beaker (2001
Wedding Piggy (2001)
Wedding Kermit (2001)
Hand Puppets:
Kermit (1999)
Animal (2000)
Beanies:
Kermit (1999)
Miss Piggy, miniature version of the doll (1999)
Gonzo, miniature version of the doll (1999)
Animal, miniature version of the doll (1999)
Kermit with white heart shirt
Miss Piggy with pink heart shirt
Fozzie with white "Cool Love" heart shirt
Gonzo with white "Weird Love" heart shirt
Animal with white heart shirt
Rizzo with red heart shirt
Life Size Dolls
Kermit
Miss Piggy
Gonzo
Animal
Statler
Waldorf
Swedish Chef
The Swedish Chef was an updated version of the Croonchy Stars doll. The Animal handpuppet was an updated version of the Animal from the line of Fisher Price Muppet plush.
A sofa and a chair were sold to display Statler and Waldorf on.
Community content is available under
CC-BY-SA
unless otherwise noted.