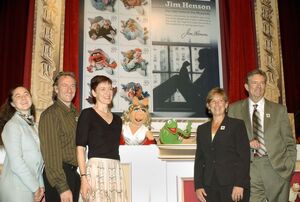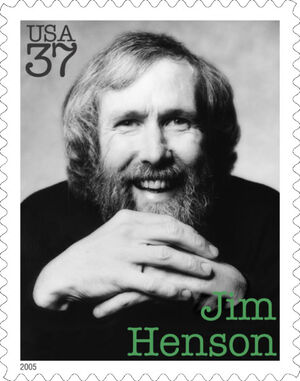 The United States Postal Service released a sheet of 37-cent First Class postage stamps in September, 2005, honoring Jim Henson and the Muppets. The Henson stamp featured a 1986 photograph by Norman Seeff. The photos on the Muppet stamps were commissioned specifically for the set of stamps.
The ten Muppet stamps featured Kermit the Frog, Sam the Eagle, Statler and Waldorf, Animal, Rowlf the Dog, Fozzie Bear, Miss Piggy, the Swedish Chef, Dr. Bunsen Honeydew and Beaker, and Gonzo and Camilla. The back of each Muppet stamp featured the character's signature and a quotation from them about stamps or mail. Each of these quotations were written by Jim Lewis.[1]
The stamp sheet included a quote from Henson: "When I was young, my ambition was to be one of the people who made a difference in this world. My hope is to leave the world a little bit better for my having been here."
At the dedication ceremony, Anita Bizzotto, U.S. Postal Service Chief Marketing Officer and Executive Vice President said, "The strong legacy of family fun Jim Henson created still resonates around the world. When people see the stamps, they will be a reminder of the man who taught us to not take human flaws so seriously - a reminder that one person can make 'a difference in this world.'"
Two of Henson's children, Lisa and Brian, also spoke at the dedication ceremony. Kermit was on hand as well, to add: "On behalf of the Muppets, it is a great honor to be featured on our own set of stamps," said Kermit the Frog. "These commemorative stamps couldn't have come at a better time - to celebrate my 50th Anniversary, I'm hitting the road next month on a 50-stop World Tour. I'll need to send a lot of letters home to Miss Piggy if I want to stay in her good graces!"
The stamps were good as first-class postage for a little over three months; the USPS raised its postage rates to 39 cents in January, 2006.
The USPS also produced a "Mailing the Muppets Keep-in-Touch Kit," which included 10 jumbo postcards of each character, 10 sheets of stationery and matching envelopes.
Sources
See also
Community content is available under
CC-BY-SA
unless otherwise noted.