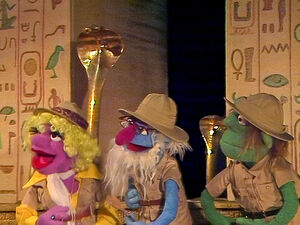 While taping Don't Eat the Pictures at the Metropolitan Museum of Art in 1983, Jim Henson and some museum employees conceived of a television special in which "the Muppets set off on an archeological ethnological expedition to discover their roots. In a distant unspecified place, they excavate Muppetamia and even meet some natives that preserve some Muppet linguistics, social and cultural traditions."
The plan was to tie the special in with a traveling exhibit that combined Muppetamian "artifacts" with real ones from the Museum's collection.
By 1986, the Metropolitan Museum was no longer involved, and the special had evolved into a four-hour miniseries called Island of the Lost Muppets, now to be broadcast on CBS. A script was written by Andy Borowitz and Miss Piggy's Guide to Life author Henry Beard. The miniseries would have introduced an archaeologist named Dr. B. Bernie Bernhardt-Bernardi and new Muppet characters called the Orangs.[1] CBS later wanted it to become a two-hour made-for-TV movie before dropping their support altogether.[2]
The project was eventually turned over to Jerry Juhl, in whose hands it evolved into the movie script The Cheapest Muppet Movie Ever Made!.
Sources