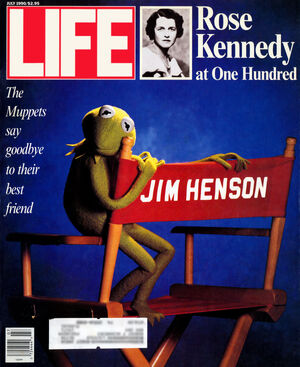 See also: Jim Henson: Awards and Honors for a listing of posthumous awards and special recognitions.
Tribute in the July 1990 issue of Life magazine
A two-page spread in the Summer 1990 issue of WD Eye was dedicated to Henson with testimonials and artworks from the Disney Imagineers who worked with him.
Editorial cartoons
In the days and weeks following Henson's death, a number of newspapers published editorial cartoons in memoriam. In an April 3rd, 2018 live video stream on the Muppet Guys Talking Facebook page for Below Stage Pass customers, Frank Oz shared a favorite of his which featured Henson meeting St. Peter at the Pearly Gates and asking him how his halo stays up.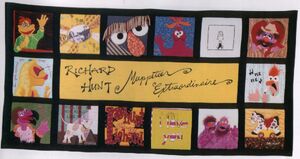 Many panels were created in Hunt's honor for the NAMES Project AIDS Quilt, including one created by his friends in The Muppet Workshop.
The Richard Hunt Spirit Award is annually presented at the Sesame Street wrap party to the cast member who best honors the generosity in spirit and dedicated work of Richard Hunt in their actions on set.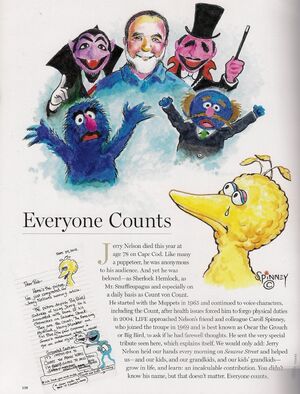 Tribute with illustration by Caroll Spinney in Life magazine's special "Farewell: Remember the Friends We Lost in 2012" issue.
Episode 4411 of Sesame Street honors Jerry Nelson with a tribute to the Count.
Sesame Workshop's tribute reel released on YouTube upon his retirement (YouTube)
See also