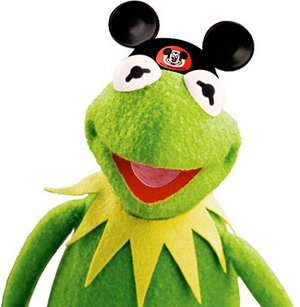 Muppetland was a proposed Muppet take-over of Disneyland that was slated to take place during the entire year of 1991. Jack Lindquist, then-president of Disneyland, intended to have Mickey Mouse, Donald Duck, and the other Disney characters take a year-long vacation from the park after hosting Disneyland's 35th Anniversary Celebration the prior year.
Full-page ads featuring Kermit the Frog would have made the announcement of the Muppets running Disneyland with Mickey turning over the keys to the park to Kermit in January of 1991, resulting in a Muppetized Disneyland.
Among the proposed changes to the park would have been a covering over the Disneyland entrance marquee (renaming it Muppetland), the famous Mickey-shaped flower bed at the entrance to Disneyland being replaced with a Kermit head, Miss Piggy taking over as Cleopatra in the It's a Small World ride, Animal appearing in Pirates of the Caribbean and the 147 foot tall Matterhorn mountain being painted green.
Special Muppet parades would have played daily in the park, including Here Come the Muppets and the Muppet All-Star Motorcade.
Some of the proposed ideas eventually came to pass, such as the inclusion of Muppet*Vision 3D, although it was in 2001 when it opened in Disney California Adventure park, a decade after the proposal.
With the death of Jim Henson on May 16, 1990, work eventually stopped on the changes, ending with the collapsed sale of The Jim Henson Company to Disney.
Sources
See also