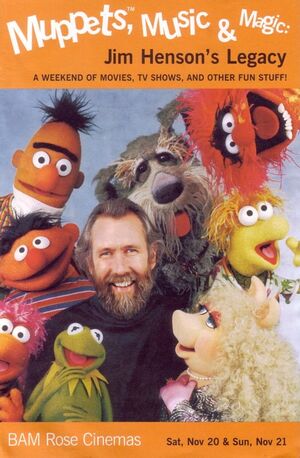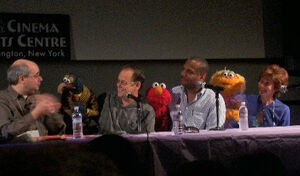 In 2004 by The Jim Henson Legacy and the Brooklyn Academy of Music launched a program entitled "Muppets, Music & Magic: Jim Henson's Legacy". The touring event features screenings of films and short programs from the Henson archives along with other special events, guests and pannel discussions.
Screenings have included: Follow That Bird, Muppets from Space, Dog City, episodes of The StoryTeller, The Dark Crystal, The Adventures of Elmo in Grouchland, The Song of the Cloud Forest, episodes of Fraggle Rock, The Muppet Movie, a video collection entitled "Muppets Musical Moments", The Great Muppet Caper, a video collection entitled "Commercials & Experiments", Labyrinth, The Frog Prince, The Elves and the Shoemaker, Muppet Treasure Island, episodes of The Muppet Show, a video collection entitled "Muppet History 101", The Muppets Take Manhattan, and a Muppet Movie sing-along.
Events
November 20 - 21, 2004
Guests included Craig Shemin, Jerry Juhl, Bonnie Erickson, Caroll Spinney and others.
The Brattle Theatre (Boston, MA)
March 30 - April 3, 2007
Film screenings only; no guests.
Wexner Center (Columbus, OH)
April 17 - 24, 2007
June 21 - July 01, 2007
Guests included Dave Goelz and others.
August 10 - 12, 2007
Guests included Craig Shemin, Heather Henson, Dave Goelz (with Gonzo), Kevin Clash (with Elmo), Fran Brill (with Zoe) and others.
George Eastman House (Rochester, NY)
November 26 - December 23, 2007
Only five screenings confirmed, no guests.
Gene Siskel Film Center (Chicago, IL)
November 8 - December 4, 2008
Guest Speaker David Rudman appeared the opening weekend.
Atlanta History Center (Atlanta, GA)
November 15 - 16, 2008
Guest Speaker Dave Goelz
Orange County Regional History Center (Orlando, Florida)
March 6 - April 5, 2009
Guests included Craig Shemin, Heather Henson, Steve Whitmire (with Kermit the Frog), Kathryn Mullen, Fran Brill (with Zoe), Michael Frith, Cheryl Henson and others.
Northwest Film Center (Portland, Oregon)
May 1-30, 2009
Ragtag Cinema (Columbia, Missouri)
April 8-24, 2010
Guest speaker David Rudman with Cookie Monster
St. Louis County Library (St. Louis, Missouri)
October 1, 2010
Guest speaker Dave Goelz (with Gonzo)