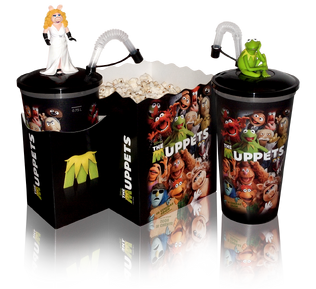 The Muppets-Menü was a promotional offer for movie-goers at German movie theaters through January 2012. Though the menu was promoting Die Muppets, it was also available for purchase without a movie ticket.
Cinemaxx and UCI Kinowelt were among the participating theater chains, with the former offering more for the same price. The menu consisted of a small serving of popcorn in a collectible tray, and a soft drink in a 0.75 liter collector's cup with a Muppet PVC topper of choice (Kermit the Frog or Miss Piggy, modeled after prominent Muppet poser photos). The PVC toppers were removable from the lid, but glued to their round, black bases. Cinemaxx theaters also offered one of five Muppet plush key chains (Kermit, Miss Piggy, Animal, Fozzie Bear or Gonzo) made by Italian company Joy Toy included with the menu, which was available for 7,90 €. The key chains were also available separately at Cinemaxx theaters for 5,50 €.
Cinemaxx ads called it "Das Superkultige Muppets-Menü" ("The Super-Iconic Muppets-Menu"). At other theaters, four different-sized popcorn containers were available, as well as smaller 0.5 liter cups sporting the same movie poster design.
Notes
The Kermit PVC only sports ten, instead of the correct eleven points on his collar.
External links
Community content is available under
CC-BY-SA
unless otherwise noted.