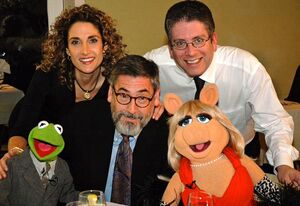 A short spec presentation pilot featuring the Muppets in a mock documentary format, or "mockumentary", was produced by the Muppets Holding Company in December 2006.
The piece was written and produced by Bill Prady and directed by Bill Barretta. It featured puppetry by Barretta, Dave Goelz, Steve Whitmire, and Eric Jacobson. The demo also featured cameo appearances by John Landis and Melina Kanakaredes.
The short follows fictional English filmmaker Ian Bascombe as he and his camera crew are given full access to film Kermit and the rest of the Muppets as they attempt to develop a new television series.
In addition to following Kermit as he meets with a network executive, Bascombe interviews other Muppet characters. Some, he discovers, have left entertainment (Sam the Eagle, for example, is working as a security guard) while others have been pursuing solo projects (Fozzie Bear has continued to perform as a stand-up comedian, but he also mentions that he spent a season as a writer on Moesha). In the proposed series, Kermit would travel around having to get the gang to come back together to help with the new show.
The 10-minute presentation pilot, filmed in December 2006, proposed a possible television mini-series that would have been shot in the same type of mock documentary style and would follow the adventures of the Muppets as they regroup and create a show.
In a September 2007 radio interview, Dave Goelz speculated that it was possible that elements of the reel could make it into a future series or film, but that the whole process was mainly done just for getting the Muppet talents involved and working on something again.
In a 2015 interview, Prady revealed "I was literally told to destroy every copy [of the pilot] I have."
The basic concept of Kermit setting out to reunite the Muppets to put on a show after they've all gone their separate ways was revisited in the 2011 film The Muppets. Prady and Barretta later revived the overall concept, that of a mockumentary featuring the Muppets, for a 2015 pilot which was picked up by ABC as a series, titled "the muppets."
Sources