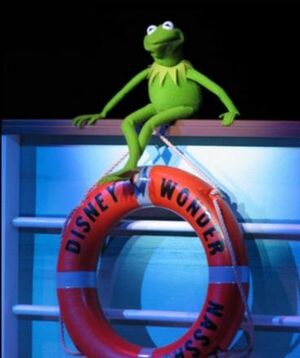 Muppets Ahoy! was a shipboard stage show incorporating live puppetry of Muppet characters, which debuted on the Disney Cruise Line in July 2006. The production debuted aboard the ship Disney Wonder. Performers included John Kennedy, Victor Yerrid, Drew Massey, and Brett O'Quinn.
The show was a combination of live stage show and videos recorded by the same puppeteers earlier on the cruise.
Kermit the Frog, searching for a star to headline the show, along with Fozzie Bear and Gonzo put on a stage show while sharing videos from their time on the cruise (including boarding the ship, hanging with the captain on the bridge, interacting with the ship's features and "landmarks", interviewing ship crew members and even getting the cruise director dressed as a chicken in one bit). Miss Piggy, too busy enjoying room service and the services of her stateroom to come to the show, talked to Kermit "live" via video. The Muppet cast performed a few comedy and musical numbers, including "Mah Na Mah Na". Finally Miss Piggy decides to show up. She is about to perform every song she knows in alphabetical order, but a problem with the stage causes her to fall through a a trap door in the stage. Statler and Waldorf were in the audience, heckling the show as usual.
The guest star of the show was finally found. "Pavarotti", an Italian circus performer dressed in a fat suit, did many physical stunts and gags - including backflips in costume and pulling an elastic glove down over his head and blowing it up.
Although the characters were purposely performed by new puppeteers for the show, Steve Whitmire mentioned in a Tough Pigs interview that he had performed in one show to make sure Kermit stayed Kermit.[1]
Cast
Sources
See also