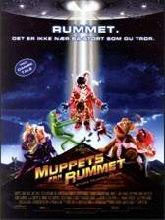 Muppets Fra Rummet is the Danish dub of Muppets from Space. The movie premiered June 16, 2000 and sold 1,983[1] tickets in the Danish cinemas. The movie was released on DVD and VHS on November 15, 2000.
Translations and Voices
Other credits
Jan Tellefsen - Danish adaptation
Sources
External links
Community content is available under
CC-BY-SA
unless otherwise noted.