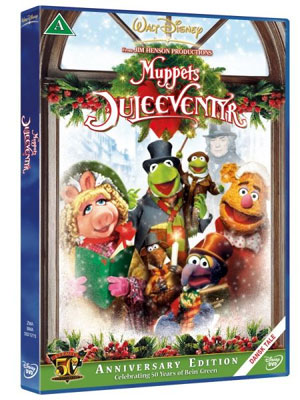 Muppets Juleeventyr is the Danish dub of The Muppet Christmas Carol. The movie premiered in Denmark on December 3, 1993 and sold 15,274 tickets in Danish cinemas.[1]
As a part of the premiere, there was an exhibit at the Cinema Scala in Copenhagen. It was called "Mit liv med Kermit og Miss Piggy" (My life with Kermit and Miss Piggy) with the original puppets on display. The exhibit ran from November 26, 1993 to January 1st, 1994.
Translations and Voices
Additional Voices
Crew
Dubbing director: Lars Thiesgaard
Dialogue translator: Anne Vibeke Mortensen
Lyric translator: Jesper Kjær
Choir singing: Tritonus chhoir led by John Høybye
Producer: Svend Christiansen
Studio: Sun Studio
Produced by Disney Character Voices International, Inc.
Sources
External links
Community content is available under
CC-BY-SA
unless otherwise noted.