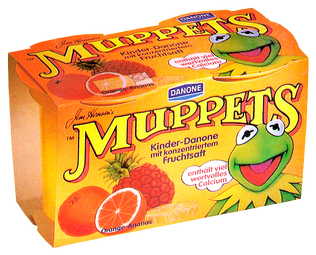 Muppets Kinder-Danone was a yogurt brand sold in German language countries, that was launched in 1989. It was produced by French company Danone (known as Dannon in the US).
Several different fruit flavors were available in two-packs. The packaging featured a broad variety of Muppet content billed as "Geheimtip" (secret tip) on the underside, with characters presenting gender oriented ideas, jokes, tips and tricks:
A few of the packs included finger puppets of Kermit, Miss Piggy, Fozzie, Gonzo and Scooter to be colored and cut out. Another one featured instructions to a game and small colored playing pieces with the heads of Kermit, Miss Piggy, Fozzie, Gonzo, Scooter, Animal, Dr. Teeth, Dr. Bunsen Honeydew, Sam the Eagle, Statler and Waldorf.
See also