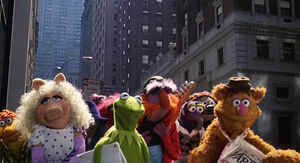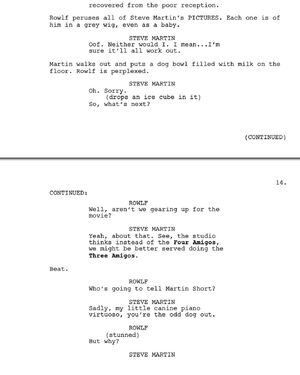 Muppets Live Another Day was a proposed Muppet series planned for the Disney+ streaming service which was first announced in early 2019.
In February, a website called "Splash Report" published an item about the series, which was being developed by Josh Gad and the writing team of Adam Horowitz and Eddy Kitsis (creators of the ABC series Once Upon a Time). The setting would immediately follow the events of The Muppets Take Manhattan and the plot would have entailed Kermit the Frog reuniting with the Muppets after the mysterious disappearance of Rowlf the Dog.[1][2]
In September, Deadline reported that Muppets Live Another Day would not be moving forward due to differences between "the writing team's creative vision and that of the top brass at Disney-owned Muppets Studio."[2] The Hollywood Reporter also cited a recent change in executives within Muppets Studio as a factor. Former vice president Debbie McClellan is noted to have worked directly with Kitsis and Horowitz on the project. With McClellan's departure in May, she was replaced by David Lightbody, who offered the team to take the project in a new direction, but the team declined to start over again after months of work and departed instead.[3]
Gad gave additional details on the series' development in a Twitter post dated September 9, 2019:[4]
"Sadly, Eddy Kitsis, @AdamHorowitzLA & I have decided to step away from Muppets Live Another Day. Sometimes, creative differences are just that. We LOVE this franchise so much & truly wish them all the best. Our 80's-set sequel to Muppets Take Manhattan was pretty special & in particular I hope you all get to hear the four BRILLIANT songs written by Bobby Lopez and @Lyrikris10 one day soon. They are beyond your wildest dreams. And also see some of the ideas & concepts director Jason Moore was going to bring to the 6 part limited series. Love Disney + And Adam, Eddy and I cant wait to find more fun and exciting opportunities with our great partners over there. In the meantime, long live the Muppets!"
The same day on Instagram, Gad elaborated further with details comparing it to Stranger Things and that the project was to be directed by Jason Moore (Avenue Q):[5]
"Misinformation is my least favorite kind of information so I thought I'd take a minute to clarify some news that broke today. After a little over a year and a half of working on a project called "Muppets Live Another Day," @adamhorowitzla #eddykitsis and I have decided, with a heavy heart, to walk away. Some times creative differences are just that. The project, with original songs by Bobby Lopez and Kristen Lopez was to be directed by the great Jason Moore, (director of "Avenue Q" and "Pitch Perfect"). It was meant to be a limited event series that picked up a year after "Muppets Take Manhattan" and was essentially about what happens after you've reached the end of the rainbow. It was going to be Muppets by way of Stranger Things and feel like a movie spread over 6-8 episodes. Part of the joy for us, by placing the Muppets in the middle of the 1980's, was to subvert and comment on our current love for all things nostalgia while at the same time allowing the characters to tell a story that would ultimately lead to and end in present day, revealing some secrets along the way. It has been one of the great joys of all of our lives to write words for these iconic characters. We wish this franchise all the best and thank our partners at Disney+ and ABC Studios for the opportunity to develop something so fun and outside the box. They have been nothing but supportive and terrific and we can't wait to play again in other sandboxes. While it is sad, I have no doubt this franchise, under its new leadership will find new and wonderful stories to tell. My only hope is that one day you can all hear the BRILLIANT music by Bobby and @kristenlopez5681 wrote for Kermit and company. The music is next level good. In the meantime, Adam, Eddy and I are already cooking up new fun ideas that we cannot wait to share. Until then, long live "The Muppets." They have given us joy for over 40 years and I have no doubt they will continue to bring us joy for the next 40 years."
On March 31, 2020, Josh Gad shared a page and a half of a script for the series, detailing a scene between Rowlf the Dog and Steve Martin.[6]
See also
Sources
Community content is available under
CC-BY-SA
unless otherwise noted.