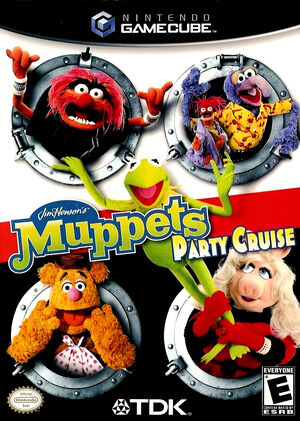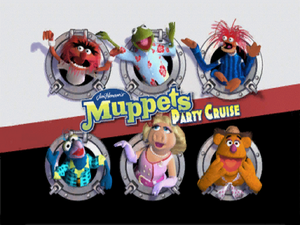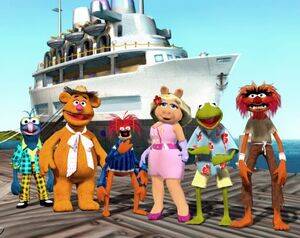 Muppets Party Cruise is a video game released for the Sony PlayStation 2 and Nintendo GameCube in 2003.
Plot
The plot is minimal -- the Muppets are on a cruise ship, and Pepe has accidentally booked their cabins in the engine room at the bottom of the ship (having misunderstood "first class" as the first deck). The player can assume the identity of six Muppets (Kermit the Frog, Miss Piggy, Fozzie Bear, Gonzo, Pepe the King Prawn and Animal) as they make their way to the upper decks of the ship.
There are five decks on the ship, and the object of each deck is to win a required number of matching-colored party favors by playing a collection of mini-games, hosted by a host of other Muppet characters (in voiceover only). Mini-games include shuffleboard, speed bingo, and a clone of the video game "Asteroids."
Gameplay
The game features two "modes" that can be played: The Short Cruise & the Long Cruise.
The Short Cruise mode is a non-linear collection of multiplayer mini-games. This mode does not immediately offer play for all the mini-games that are available in the game.
The Long Cruise mode is a linear collection of mini-games. By completing various stages in this mode, the player can "unlock" additional mini-games to play. In addition to unlocking 15 mini-games and 4 additional boards, you can unlock all 20 Muppetisms for each new board/mini-game.
As is customary with games released solely for a gaming console, there are "locked" features which the player can unlock by achieving a certain goal (e.g. setting a high score or winning a section of the game). The locked features for this game are additional mini-games.
Muppets Party Cruise features original music by Chris Tilton, including "Muppets Party Cruise Rag", a song sung by Kermit over the credits (with lyrics by writer Craig Shemin).
Mini-Games
Unlocked from the start

Picture
Description

Beach Speeders

Host: Scooter
Description:

"

Seven laps of fun! You have a remote control car in your beautiful color, and we dug a nice race track in the sand. Grab a fresh battery for a little power boost and watch out for the waves!

"

Bunsen's Burners

Host: Dr. Bunsen Honeydew
Description:

"

My shrinking box works quite well, luckily you have been given small flame throwers to battle the active atomic structures. Watch out for the sub-zero molecule: big freeze!

"

Cannon Fodder

Host: Gonzo
Description:

"

If you thought being blown out of a cannon was fun, try landing in another one for a delightful shot of joy and a dazzling spray of pain!

"

Crustacean Crush

Host: Pepe
Description:

"

This is a game about crabs, okay. Pick them up and take them to the big fish in your corner and he will eat them all gone. Then he does not like them and spits them out, okay! Genius!

"

Dune Buggies

Host: Clifford
Description:

"

My old man taught me this game last time we were in Egypt. Drive your dune buggy into the bouncy balls until they go over the edge. Be careful you don't follow 'em down.

"

Looney Unicycles

Host: Fozzie
Description:

"

My first unicycle was a gift from my great uncle. It was really a bike with the front wheel gone. Though on hills. Maybe my uncle wasn't that great. Oh yeah, pick up the green things!

"

Outta Gas

Host: Sweetums
Description:

"

Pushing cars is great fun. Steering cars is almost as fun. Pushing cars on a detour in the desert gets a little hot, but we gotta have gas! Drinks get you a big speed boost.

"

Pigsty Party

Hosts: Randy & Andy Pig
Description:

"

We're having a little party in our cabin. See if you can keep track of just how many of us stay in the room. Enjoy the snacks, have some soda. Our heads hurt!

"

Rhythm Mayhem

Host: Animal
Description:

"

Beat drums! Bright drums! Water water water water! Hit button! Hit arrow! Beat beat beat beat! ON BEAT! Hit again. Hit again. Hit drums.

"

Shuffle Chalk

Host: Statler & Waldorf
Description:

"

Play the game that's been around for centuries! Just like us! Just take your broom and shove it hard! But not too hard! Uh, oh. Look out, incoming pucks!

"

Slippery When Wet

Host: Kermit
Description:

"

Now this one is a real blast! Water, check. Emeralds, check. Dynamite? Slide down the water, pick up the emeralds, avoid the dynamite. Hmmm... sounds easy?

"

Speed Bingo

Host: Bean Bunny
Description:

"

I've never seen anything this cute in my whole life! It's got pretty eggs and pretty flowers, and pretty little bunnies too. Oh boy! Hop along very quickly if you don't want to lose!

"

Stage Fright

Host: The Swedish Chef
Description:

"

(Translated from Swedish) Soften your tomatoes by tossing lightly against your opponents heads. Do not throw them at the stage or props, as they may spoil. Everybody duck.

"

Stinky Cheese

Host: Rizzo
Description:

"

There is nothing more fun than picking up big hunks of stinky, green cheese. Especially in the sewer while balancing on beach balls as the world spins around you!

"

Tug O' War

Host: Miss Piggy
Description:

"

Don't mess around with this one. Press the buttons, pull the rope. How hard can that be? It helps if your teammate isn't a total loser, because no one wants to come out all wet.

"

Locked mini-games

Picture
Description

Aeroplane Island

Host: Janice
Description:

"

An Aeroplane Island haiku:
Tropical Island
Hot volcanoes, cold rapids
Dangerous, fer sure
Like, happy flying, friends.

"

Asteroid Belt

Host: Stragepork & Hogthrob
Description:

"

There is a lot of space out there in the world and this is but a tiny quadrant. Use the power you have to blow up the asteroids. Pick up the rockets to fire at the others.

"

Chemical Imbalance

Host: Beaker
Description:

"

Each beaker needs to be filled with a precise mixture of chemicals. If the wrong chemicals are added: Boom! If your mixture is mixed right, check it and you'll get another. --Bunsen

"

Fish Flingers

Host: Lew Zealand
Description:

"

This is the best game there could ever be. Throwing fish is the greatest sport ever known to mankind. There are old tires, toilets, and pails. Just point and toss--the fish will fly!

"

Food Fight

Host: Dr. Teeth
Description:

"

Setting: A market in the Orient, Day.
Our heroes discover local fare and stains. It is a truly humbling situation to have catapulted cuisine cover your coiffure! But that is exactly what lies in store...enjoy!

"

Gumball Drops

Host: Johnny Fiama & Sal
Description:

"

Hey cha-cha, that's a lot of groovy gumballs! Move them around so the colors match the columns and they'll slip out of the bottom.

"

Lights Out

Host: Crazy Harry
Description:

"

Want to see all the pretty lights go boom? All the pretty flashing lights add up to some big numbers, but the biggest of all is the yellow bomb! Don't let it happen to you!

"

Natural Disaster

Host: The Newscaster
Description:

"

This just in! There are dangerous wave fronts approaching from the north, vicious whirlpools coming out of mid-town, and flotillas of olive-buoys everywhere you look! Tag your color!

"

Power Boatin'

Host: Bobo the Bear
Description:

"

I like balloons. I like power boats, too. Hey! I like popping balloons WITH power boats. Take the ramps real straight now and you'll be poppin' 'em left and right and down the middle.

"

Scuba Driving

Host: Camilla the Chicken
Description:

"

My girlfriend Camilla doesn't really talk that much but she told me to say that even she doesn't know what a chicken has to do with swimming through the tentacles of an octopus -- underwater!

"

Short Circuit

Host: Digit
Description:

"

A circuit is made out of a string of electrical charges that form a closed shape of points that will explode in a shower of sparks. Make them or break them.

"

Sling Ball (aka Precision Painter)

Host: Sam the Eagle
Description:

"

This Patriotic Paint party has been put together precisely for the enlightenment of the proletariat. Please stay in the lines and... What do you mean, slingshots?

"

Spinball

Host: Floyd Pepper
Description:

"

Have a ball with this marvelous machine! Roll yourself up and take off, bumpin' and grindin' until the lights are flashin' and you're bouncing around like crazy. Sounds like a groovy time!

"

Ticklin' the Ivories

Host: Rowlf
Description:

"

So, while I'm ticklin' my ivories, you can tickle yours. Play by the numbers, get the ball in the pocket with the biggest number before it moves away. Now chalk up and enjoy a little ragtime.

"

Too Cool

Host: Zoot
Description:

"

Look at all that ice, man! This is just too cool! Get all the flavors in their corners and they'll chill out just right. I know a cat who can do it twice!

"
Notes
Voice Cast
Basic Information
Developer : Mass Media
Publisher : TDK Mediactive
Genre : Arcade, Single-Player, Multi-Player
Release Dates
PlayStation 2 : November 14, 2003
GameCube : November 21, 2003
Additional Credits
External links
Community content is available under
CC-BY-SA
unless otherwise noted.