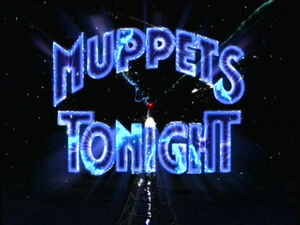 Muppets Tonight, the homonymous German dub of Muppets Tonight, premiered on RTL on March 22, 1998.
Thirteen episodes were dubbed, matching the original first season production order rather than the episode order as aired in the US.
In contrast to the original US airing, the UK spots were included, likewise dubbed.

Character Translations and Voices
Episodes
Guest Star
German Episode Number
Additional Voice Actors
German Airdate
Michelle Pfeiffer
Folge 101
Katja Nottke (Michelle Pfeiffer)
March 22, 1998
Martin Short
Folge 102
Niko Macoulis (Bean Bunny)
April 5, 1998




Paula Abdul
Folge 103
Anke Reitzenstein (Paula Abdul)
August 8, 1998
Billy Crystal
Folge 104
Joachim Tennstedt (Billy Crystal)
Mogens von Gadow (Larry King)
August 15, 1998
Garth Brooks
Folge 105
Frank Lenart (Garth Brooks)
Herbert Weicker (Leonard Nimoy)
August 22, 1998
John Goodman
Folge 106
Hartmut Neugebauer (John Goodman)
August 29, 1998
Tony Bennett
Folge 107
September 19, 1998
Whoopi Goldberg
Folge 108
Regina Lemnitz (Whoopi Goldberg)
Gert Günther Hoffmann (William Shatner)


Jochen Striebeck (Richter Wapner)

September 26, 1998
Heather Locklear
Folge 109
Katrin Fröhlich (Heather Locklear)
October 10, 1998
Jason Alexander
Folge 110
Wolfgang Müller (Jason Alexander)
October 17, 1998
Pierce Brosnan
Folge 111
Frank Glaubrecht (Pierce Brosnan)
October 24, 1998
Cindy Crawford
Folge 112
Carin C. Tietze (Cindy Crawford)
Bernd Simon (Cupid)
December 3, 1999
Sandra Bullock
Folge 113
Bettina Weiss (Sandra Bullock)
Franz Rudnick (Ernest Pleth)
Jan Odle (Baby Jerry)
Tonio van der Meden (Baby George)
Peter Musäus (Baby Kramer)
December 10, 1999
External links