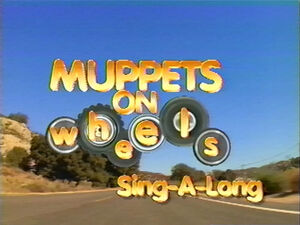 Muppets on Wheels is a 30-minute sing-along special released direct-to-video by Jim Henson Video in 1995.
In the special, Kermit the Frog and Lindy, a young boy who wants to learn about things that go, explore different varieties of vehicles, including a race car, a tractor, a rollercoaster, a bicycle, and several types of trucks. The video is a companion to Things That Fly.
Cast
with
Orlando Brown, Skylar Brown, Madison Eginton, Zachary Eginton, Allana Fonseco, Sarah Lubran, CJ Marin, Sara O'Nan, Jonathan Osser, Robert Pacheco, Brett Tattersall, Shannon Tattersall, Joseph Tello, Kaitlyn Weaver
Crew
Songs
Notes
While this was a sing-along video produced during the era of Muppet Sing-Alongs, neither the packaging or opening refer to it as Muppet Sing-Alongs. However, the back of the boxes for the 1996 sing-along videos do list this one in a section on other Muppet Sing-Alongs videos available.
See also