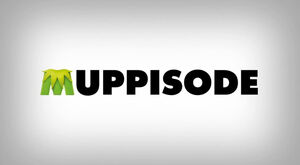 "Muppisodes" are a series of short videos released by Muppets Studio starting in December 2013 in order to promote Muppets Most Wanted. The videos were published on Disney.com and YouTube, along with co-releases on other social media outlets. Additionally, Disney Channel has aired the videos in the US as interstitials between programs.
The first short, entitled "Food Fight!" (titled on screen in Swedish Chef-ese as "Føødê Fïtê"), debuted on BuzzFeed on December 5, 2013[1] and was also posted to Disney's official U.S. website, disney.com, the same day.[2] It was released on the Muppets Studio's YouTube channel the following day.[3]
An extended version of "Food Fight!" featuring appearances by WWE wrestler The Miz and ring announcer Michael Buffer also premiered exclusively on the WWE's website and YouTube channel the following day (December 6th). A behind-the-scenes teaser had been posted on the WWE's YouTube channel on December 3.[4]
A second Muppisode, entitled "Holiday Harmony," was released on Disney.com on December 11th. The video repurposed the "Ringing of the Bells" YouTube video from 2009 as a "Throwback Muppisode" with the new Muppisode opening featuring Kermit and replacing Statler and Waldorf's closing bit with promotion for Muppets Most Wanted.
Food Fight!
Released: December 5, 2013
Video: BuzzFeed (premiere), Disney.com, MuppetsStudio's YouTube
Extended Version: WWE's YouTube MuppetsStudio's YouTube
Behind-the-Scenes: WWE's YouTube
Description: Gordon Ramsay challenges the Swedish Chef to a food truck cook-off.
Muppets: Kermit the Frog, Miss Piggy, Walter, Scooter, Fozzie Bear, Gonzo, Rowlf the Dog, Animal, The Swedish Chef, Pops, Beaker, Sweetums, Statler and Waldorf, Dr. Bunsen Honeydew, and Floyd Pepper (visible in extended version only)
Celebrities: Ross Lynch, Maia Mitchell, The Miz (extended version only), Michael Buffer (extended version only), Gordon Ramsay
Holiday Harmony
Released: December 11, 2013
Video: Disney.com, MuppetsStuio's YouTube
Description: Animal, Beaker and The Swedish Chef perform "Carol of the Bells." This is a re-release of a 2009 Muppet viral video, "Ringing of the Bells" (billed as a "Throwback Muppisode").
Muppets: Kermit, Animal, Beaker, The Swedish Chef
Sources
Community content is available under
CC-BY-SA
unless otherwise noted.