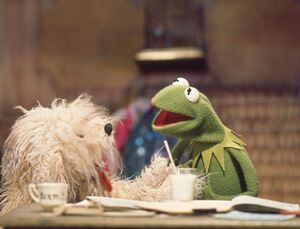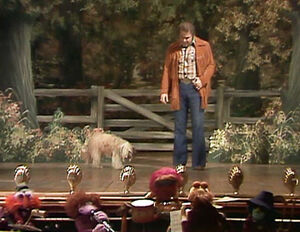 Muppy is a shaggy, white dog and the favorite pet of Muppet Theatre owner J. P. Grosse. His debut appearance in episode 101 of The Muppet Show is also his most prominent. Though Muppy is mute, he communicates through Scooter and uses his connections to pressure Kermit into giving him his own act, his own dressing room, and star billing. He even drinks Kermit's milk. But when he demands the name of the show be changed to The Muppy Show, Kermit puts Fozzie in the act instead of Muppy.
In later episodes, Muppy is almost exclusively relegated to background appearances, although he continues to demonstrate the penchant for biting that he displayed in his first appearance, biting Kermit again at the end of the Panel Discussion in episode 107 and going after Harvey Korman in episode 110. By episode 221, he has been replaced at the foot of his owner by Baskerville the Hound in the "Long, Long Ago" medley.
The puppet shared many similarities to another "fluffy white dog," Rufus, who was originally built for the mid-60s pilot The Land of Tinkerdee and later appeared in Hey Cinderella! and The Muppets Valentine Show. Muppy, however, was built to incorporate more realistic features, including taxidermy eyes, shaggier fur, and a more matted nose. This was so that shots of the puppet could be intercut with shots of a live dog that was used to portray the character in long shots (going up and down the stairs backstage, for example). The same effect would be used in later seasons with another Muppet dog, Foo-Foo. Muppy was later given more traditional Muppet eyes, which were first seen in episode 404.
Filmography
Book appearances