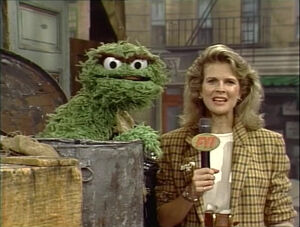 Murphy Brown was a sitcom starring Candice Bergen as the title character, an investigative journalist and anchorwoman. The show aired on CBS originally from 1988 to 1998, and was revived later in 2018. The show became quite political in nature, even drawing the ire of Vice President Dan Quayle when Murphy Brown chose to become a single mother. The character of Murphy Brown was listed by Bravo as number 51 on its list of the 100 Greatest TV Characters.
Bergen appeared in character on Sesame Street as Murphy Brown and interviewed Oscar the Grouch in a Season 21 insert.
Muppet Mentions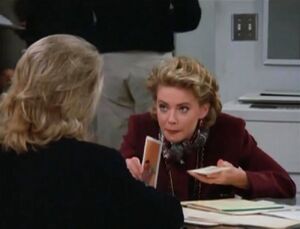 The 1992 episode "Winners Take All" has the FYE crew being honored with a banquet and a display at the Museum of Radio and Television. In preparation for the museum, Corky quizzes Murphy on the Sesame Street Muppets using flash cards. Murphy's Muppet literacy is poor: she thinks Ernie is Topo Gigio and mistakes Big Bird and Cookie Monster for each other.
In the 1993 episode "It's Not Easy Being Brown" (referencing "Bein' Green"), Murphy hires a new publicist who gets her a guest spot on a Sesame Street-style show. "Kelbo" (an Elmo parody performed by Wally Wingert) and "Murphy Brown Bear" (performed by Lisa Sturz) mock the short-tempered Murphy until she tries to attack the puppets on camera, thus ruining her attempt to change her image.
In the 2018 episode "Thanksgiving and Taking", Avery says about carrying Murphy's turkey to Miguel's food truck, "I feel like a pallbearer at Big Bird's funeral."
References
Candice Bergen voiced her Murphy Brown Muppet caricature, Murphy Brownbag, in one Sesame Street sketch entitled "Lunch Talk".
In the first episode of Muppets Tonight, "Murphy Prawn" can be seen on the KMUP schedule.
In an interview with The Austin Chronicle, Nell Scovell says that writing Miss Piggy on The Muppets was similar to writing Murphy Brown: "There's something nice about going from early in my career working for Murphy Brown to Miss Piggy. They're not that different."[1]
Connections
Regular / Recurring Cast
Guest Stars / Crew
Sources