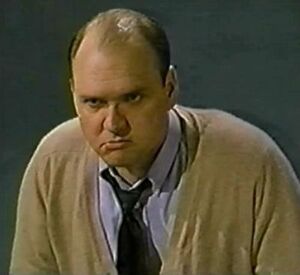 Murphy Guyer is a New York-based character actor who played teacher Mr. MacQueeney in the Aliens in the Family episode "A Very Brody Tweeznax."
Guyer is a busy television actor, with appearances on Law & Order, The Sopranos, Oz (four episodes as Officer Hunt in the first season), 24, Homicide: Life on the Street, Ed, Blue Boods, House of Cards, Person of Interest, Elementary, White Collar, and Billions. He played Kate Winslet's father-in-law in the HBO miniseries Mildred Pierce. Guyer has been a frequent voice-over actor in Ken Burns documentaries, as William Clark in Lewis & Clark: The Journey of the Corps of Discovery and other historical voices in Horatio's Drive, Unforgivable Blackness, and The National Parks: America's Best Idea. In video-games, he voiced characters in Neverwinter NIghts 2 and Red Dead Redemption.
Guyer has performed on Broadway in both musicals (as Captain Orton in the 2015 revival of The King and I, a replacement as Captain Brackett in South Pacific) and dramatic plays (as Doc Golightly in the stage version of Breakfast at Tiffany's), as well as off-Broadway (The Misanthrope in 1995). Guyer is also a playwright, author of Eden Court and World of Mirth (both staged off-Broadway). Film credits include City Hall (with Martin Landau and Fran Brill), The Peacemaker (with Nicole Kidman), Rounders, The Devil's Advocate, and the 2011 remake of Arthur.
External links
Community content is available under
CC-BY-SA
unless otherwise noted.