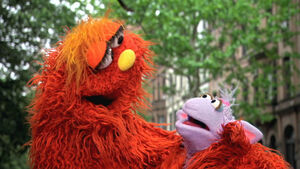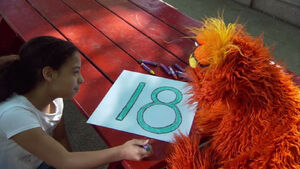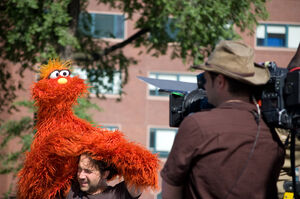 Murray Monster is a Sesame Street monster who hosted two regular segments, "The Word of the Day" and "Murray Has a Little Lamb."
An energetic monster, his early talk spots with kids in Season 36 often discussed the importance of exercise and healthy habits with young visitors. Scripts for these segments refer to the character simply as "Orange Monster."[1] The puppet was additionally referred to on the set as "FilFil," as his design is based on that of Filfil from Alam Simsim.
Beginning in Season 38, he gained an identity as Murray, hosting the "What's the Word on the Street?" segments that preceded each episode of Sesame Street. In Season 39, he began appearing in his own segment, Murray Has a Little Lamb, where he goes to a certain school with a lamb named Ovejita. In Season 40, he started serving as a host of the new "block format," presenting the letter and number of the day, introducing upcoming sketches within the episodes, and announcing the sponsors. Ovejita joined him in new "tune-in" formats introduced in Season 42, such as "Murray's Science Experiments" and "The People in Your Neighborhood."
He hosted the Sesame Street Podcast and appeared as one of the reporters for ESSN (Ernie's Sports Show News) on Count on Sports.
In a Tough Pigs interview, performer Joey Mazzarino said of Murray:
Due to the format changes and condensed show runtime in Season 46, Murray's role was diminished to re-used segments and his only new appearances for the season were in some celebrity musical numbers ("You've Got a Body, So Move It," "Be a Good Friend" and "Everyday Hero"), and the new opening and closing sequences. Following Mazzarino's departure from the show in 2015, there are no plans to recast the character.[3] As of 2022, the puppet has since gone on to be a generic AM Monster on Ahlan Simsim. (YouTube)
Notes
Episodic appearances
Book appearances
See also
Sources