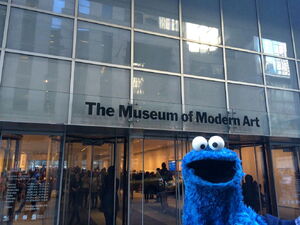 The Museum of Modern Art, often abbreviated as MoMA, is an art Museum located in New York City. Known for its collection of modernist art, is it considered one of the most influential museums of modern art in the world. Its collection includes works of architecture and design, painting, sculpture, photography, drawings, prints, books, film, and other electronic media.
Jim Henson's short film Time Piece premiered in May 1965 at the Museum of Modern Art.
Characters from Sesame Street visited the Museum in a series of inserts for the show for season 28. Baby Bear shows Big Bird his favorite painting, Henri Rousseau's "The Sleeping Gypsy" (First: Episode 3529). The duo also observe Joan Miró's sculpture "Moonbird" in the garden (First: Episode 3609), a Jackson Pollock painting (First: Episode 3631), and a sculpture by Pablo Picasso (First: Episode 3655). Baby Bear and Papa Bear observe a Piet Mondrian painting as well (First: Episode 3569)
In 2015, as promotion for the special The Cookie Thief, Cookie Monster visited three New York museums -- the Museum of Modern Art, the Metropolitan Museum of Art, and the Solomon R. Guggenheim Museum. At MoMA, he particularly admired Vincent van Gogh's The Starry Night.
Events
References
Sources
External links