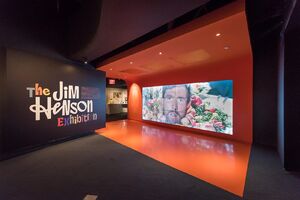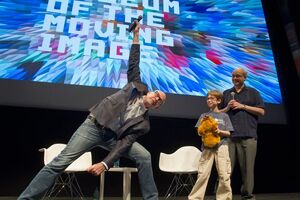 The Museum of the Moving Image (MOMI) is a media museum located in Astoria, Queens in a former building of what is now the Kaufman Astoria Studios. The museum originally opened in 1988 as the American Museum of the Moving Image. It is not affiliated with the Museum of the Moving Image (London).
The museum hosted Jim Henson's Fantastic World from July 2011 to March 2012, and houses a permanent Henson exhibit, The Jim Henson Exhibition, since July 2017.
See the list of Museum of the Moving Image events for a complete listing of Henson-related screenings and events held at the museum.
The Jim Henson Exhibition
In May 2013 — at an event hosted by New York City Mayor Michael Bloomberg, Miss Piggy, Oscar the Grouch and Gobo Fraggle — it was announced that The Jim Henson Legacy had donated almost 400 artifacts to MOMI for a permanent gallery devoted to Jim Henson. The city of New York contributed $2.75 million for construction of the gallery, which includes puppets, costumes, props, film clips, and other artifacts.[1]
At the time of announcement, the exhibit was expected to open to the public in winter 2014-2015. Following a Kickstarter campaign in April 2017, the exhibit officially opened to the public on July 22, 2017. On July 20th, 2017, the Musuem held a ceremonial press conference and ribbon-cutting, which included appearances by Abby Cadabby, Red Fraggle, and Fozzie Bear.
On May 20, 2017, the Museum-organized travelling version of the exhibit, The Jim Henson Exhibition: Imagination Unlimited, opened in Seattle.
Sources
External links
Community content is available under
CC-BY-SA
unless otherwise noted.