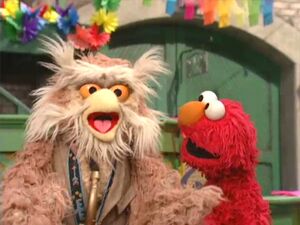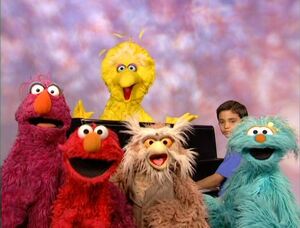 Music Works Wonders, known during production as Elmo's Wonderful World of Music, is a 2001 Sesame Street resource video.
Hoots the Owl's bandmates leave him just before a planned jam session. Elmo offers to help and discovers the many different ways to make music. He recruits Rosita, Telly, Big Bird, Oscar, and others who each play a unique part in Hoots' band. The special features two original songs, "That's Music" and "All Over the World."
The video was originally sent out on VHS to educators in partnership with the American Music Conference. The special runs twenty-two minutes long, with a Spanish-language track version following immediately. The cassette came in a kit of additional material meant to aid in teaching kids about and getting involved with music.
The special was later issued on a commercial DVD which was sold in Toys R Us stores for $0.01 with the purchase of another Sesame Street DVD. It was also included as a special feature on What's the Name of That Song?.
The full video is currently available as a free video download from Sesame Workshop via Amazon.com as part of the Learn Along with Sesame series.
Cast
Starring The Muppets of Sesame Street:
Children:

Uzma Arif on Guiro
Khalidah Chin on Violin
Abel Fonseca on Djembe
Sarah Lewis on Marimba
Ajmal Mirzai on Trumpet
Roman Piwinski on Piano
Additional Children: Kelsey Collins, Avery Homer, Tae Markey, Jesse Ortiz, Juliana Velez, Mateo Velez
Credits