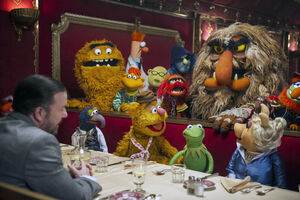 Musso & Frank Grill is a restaurant in Hollywood that has been frequented by celebrities in the film industry for decades. It has been featured in such films as Tim Burton's Ed Wood, the Oceans Eleven remake with George Clooney, and the Ben Stiller comedy Greenberg.
Although it's not mentioned by name in the film, Musso & Frank's is meant to be the restaurant in which the Muppets meet with Dominic Badguy at the beginning of Muppets Most Wanted. Early test screenings of the film use an establishing shot of the restaurant's exterior.[1]
Missing from the core group of Muppets who negotiated their world tour, Statler and Waldorf have been known to frequent the establishment. In The Muppets episode "Pig Out", Statler promises to buy Fozzie Bear dinner there since he came to visit him in the hospital. When Waldorf reminds him that they had plans to go to Dan Tana's, Statler confirms the reservation, but says they first have to stop by Musso & Frank's to drop off a "sucker" sign.
Sources
↑ ToughPigs.com, Muppets Deleted Scenes Most Wanted - observations of a test screening by Muppet fan Rachel Herrick, August 11, 2014