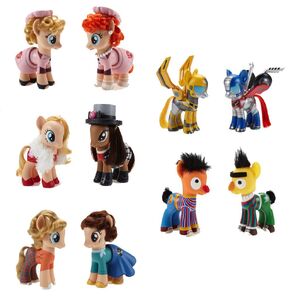 My Little Pony is an entertainment franchise created by Hasbro, first in 1981 as My Pretty Pony, and in 1983 under its now iconic moniker. The pony toys traditionally feature colorful bodies and manes, as well as a unique character-specific symbol on one or both sides of their hips (in the most recent incarnations referred to as "cutie marks").
The original toy line further inspired four animated television series, several animated specials, and an animated feature-length film. The franchise has been revamped multiple times over the decades to appeal to new generations, while the brand's sales increased considerably with the introduction of the fourth incarnation of the franchise in 2010, entitled My Little Pony: Friendship is Magic.
Although no official crossover product with a Henson-related franchise has been introduced to the market, Hasbro tweeted out an image of specially created prototypes to celebrate "Friendship Day" in 2015. Among the friendship pairings were Ethel and Lucy from I Love Lucy, Cher and Dionne from Clueless, Laverne & Shirley from Laverne & Shirley, Bumblebee and Optimus Prime from Transformers, as well as Ernie and Bert from Sesame Street. The Ernie pony features a Rubber Duckie cutie mark, whereas the Bert pony sports pigeon Bernice on his butt. The original tweet read:
"

Happy #MLPFriendshipDay!
To celebrate, we've created #MyLittlePony figures honoring iconic best friends!

"


—Hasbro Twitter feed 2015-07-30
Muppet Mentions
Connections
Community content is available under
CC-BY-SA
unless otherwise noted.