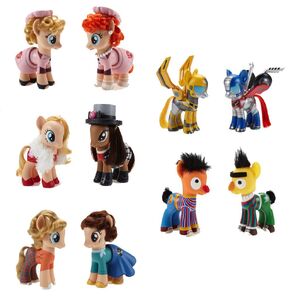 My Little Pony is an entertainment franchise created by Hasbro, first in 1981 as My Pretty Pony, and in 1983 under its now iconic moniker. The pony toys traditionally feature colorful bodies and manes, as well as a unique character-specific symbol on one or both sides of their hips (in the most recent incarnations referred to as "cutie marks").
The original toy line further inspired four animated television series, several animated specials, and an animated feature-length film. The franchise has been revamped multiple times over the decades to appeal to new generations, while the brand's sales increased considerably with the introduction of the fourth incarnation of the franchise in 2010, entitled My Little Pony: Friendship is Magic.
Although no official crossover product with a Henson-related franchise has been introduced to the market, Hasbro tweeted out an image of specially created prototypes to celebrate "Friendship Day" in 2015. Among the friendship pairings were Ethel and Lucy from I Love Lucy, Cher and Dionne from Clueless, Laverne & Shirley from Laverne & Shirley, Bumblebee and Optimus Prime from Transformers, as well as Ernie and Bert from Sesame Street. The Ernie pony features a Rubber Duckie cutie mark, whereas the Bert pony sports pigeon Bernice on his butt. The original tweet read:
"

Happy #MLPFriendshipDay!
To celebrate, we've created #MyLittlePony figures honoring iconic best friends!

"


—Hasbro Twitter feed 2015-07-30
References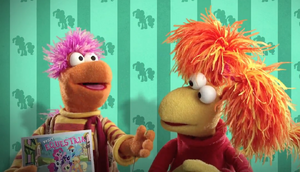 In one of the promos for The Hub's Fraggle Rock-A-Thon, Gobo Fraggle receives a postcard from Uncle Traveling Matt, detailing his visit to Equestria. The postcard depicts the six main ponies from the series and the background uses a pattern of Pinkie Pie's silhouette.
In one of The Hub's "Ask a Fraggle" spots, a viewer asks Gobo and Red Fraggle "Are you guys Bronies?" (a term used to refer to adult male fans of My Little Pony). The Fraggles don't know what that means, so their answer is no, they're Fraggles. Red says they like to play with their friends, and Gobo adds "Because friendship is magic."
Muppet Mentions
In the Equestria Girls: Rainbow Rocks short, "Pinkie on the One", after her drum solo, Pinkie Pie does an imitation of Animal.
In the My Little Pony: Friendship is Magic season six episode "Viva Las Pegasus", a pony caricature of Scooter appears as the stage manager at a Siegfried & Roy-type show.
In the comic story, "How Star Swirl Got His Hat, Yet another version of the same story by Katie Cook" (first published in IDW My Little Pony: Friendship is Magic #19), a plush toy of Kermit the Frog is seen on display.
The cover A of issue #48 of IDW My Little Pony: Friendship is Magic comics makes reference to The Muppets, including Rarity as Miss Piggy, Rainbow Dash as Animal, Twilight as Kermit, Applejack as Rowlf, Spike as Scooter, Fluttershy as Gonzo, Pinkie as Fozzie, and Luna and Celestia as Statler and Waldorf respectively.
Connections
Community content is available under
CC-BY-SA
unless otherwise noted.