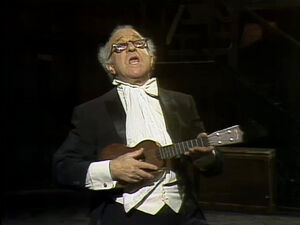 The phrase "My dog has fleas" has been long used as a mnemonic device to aid ukulele players in the tuning of the instrument. Each word of the phrase is sung in the note order of G, C, E, and A — the standard tuning of a ukulele, from top to bottom string.
The origins of the phrase and its association with the ukulele instrument is unknown. The reference to "fleas" in the phrase possibly refers to the word "ukulele" itself, a Hawaiian word dating back to the late nineteenth century which literally means "jumping flea."
References
Community content is available under
CC-BY-SA
unless otherwise noted.