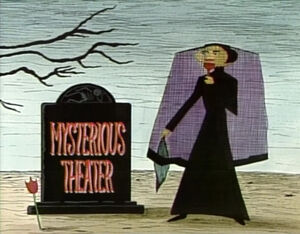 Mysterious Theater was a series of segments shown on Sesame Street, starting in season 20 (1989). The segment was a parody of the PBS series Mystery!, from the opening title art (referencing the Edward Gorey-designed Mystery! titles) to spoofing the show's former host Vincent Price as Vincent Twice.
In contrast to the anthology format of Mystery!, "Mysterious Theater" exclusively featured Sherlock Hemlock and his faithful dog, Watson. The skits were rerun until the late-1990s. The theme music was composed by Dave Conner.
"Mysterious Theater" was also used as part of a street scene in episode 2751, in which Maria loses a sock on laundry day, and Vincent Twice introduces himself to Maria to host the segment "The Case of the Missing Sock." Sherlock Hemlock attempts to find the sock, but Watson finds it first and runs off with it, leading to Maria chasing the dog, though Sherlock does not notice and continues to seek the sock. Vincent Twice re-enters to close out "Mysterious Theater," Maria continues chasing Watson and the sock, and Sherlock attempts to find the sock as Vincent Twice announces the sponsors.
Segments
Picture
First Appearance
Description

Episode 2569
The Mystery of the Missing Cat
Sherlock is on the search for Lady Agatha's missing cat, knowing that it is under something that rhymes with "at", and orders Watson to check and see if the cat is under Lady Agatha's hat or Sir Rodney's cricket bat. Eventually Watson discovers the cat is under a mat, which leads into a big cat-and-dog fight, to the displeasure of Agatha and Rodney and their butler Woodhouse.

Episode 2706
Sign of the Circle
Sherlock is commissioned to find the shape of a circle in an antique castle before time runs out at 5:00. Watson does his best to point out that the face of a clock is the shape of a circle.

Episode 2727
Dial M for Mother!
Sherlock tries to figure out how to send a message to his mother two minutes before Big Ben strikes midnight... as he stands next to a London telephone booth. Luckily, Watson points out the telephone booth, and Sherlock makes the call just in time. The message Sherlock has is to wish his mother a happy birthday.

Episode 2943
The Case of the Missing Toast
Lady Agatha can't find her toast or roast, so Sherlock figures that it is a "rhyme crime," since "toast" and "roast" rhyme, and suspects a ghost is the culprit. The thief turns out to be Vincent Twice, the host of the show. Vincent Twice closes out the episode and refuses to give back or share the roast and toast.